Op-Ed Commentary: Chris Devonshire-Ellis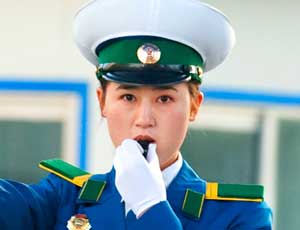 Feb. 25 – North Korea may have a few things, but one of the more implausible – unless you happen to be a raving Leninist – is fashion style. Yet that is just what Pyongyang's traffic police girls have become. Having traveled to Pyongyang numerous times on business (China Briefing even produced a North Korea special investment issue in pre-George Bush days, available here), the charabanc journey from Pyongyang's Sunan Airport to downtown Pyongyang is remarkable for one thing – a distinct lack of traffic. Yet towards the city center, empty highways are policed by attractive, crisply-uniformed traffic girls, who, whistle poised, complete pirouettes worthy of Svetlana Zhakarova mixed with a tinge of British naval fashion circa Admiral Nelson.
In a city that on the surface appears remarkably quiet and empty, Pyongyang's traffic girls add to the surreal appeal of Pyongyang – a mixture of sex, uniforms and authority. It would drive any latent BDSM aficionados nuts. With uniforms supposedly designed by Kim Jong-Il (the same man who once completed a round of golf with 18 hole-in-ones) they exude an icy authority, yet not without some aplomb. So without further ado, for the weekend, and as a change from the usual doom and gloom concerning North Korea, here's a look at the other side of Marxist-Leninist life – North Korea's most beautiful women – their traffic girls.
Want more? Plus Pyongyang traffic girl gossip, photos, articles and online dating? Here's an entire web site dedicated to them, "Pyongyang Traffic Girls."
(Editor's note: the bit about online dating may not in fact be true)
Chris Devonshire-Ellis is the publisher of 2poinbt6billion.com, the founding partner of Dezan Shira & Associates and a serial traveler among many countries in Asia. See his personal travel blog here.
Related Reading
The Definitive Guide to North Korea