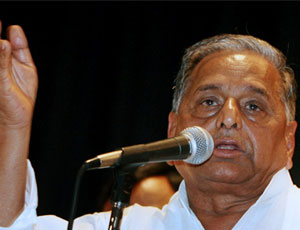 Feb. 25 – After a statement in November to warn of an imminent China attack on India, the Indian Samajwadi Party Chief Mulayam Singh Yadav said on Tuesday again that the Indian government should be highly aware of the risk of an external aggression and get prepared for it.
Singh, the man who used to be the nation's defense minister and the chief minister of Uttar Pradesh State, said the government needs to assure its people that India is safe in the face of a potential invasion from China and Pakistan.
"China and Pakistan can invade India. They are having a strategy to invade India." He emphasized.
As he did in November, Singh still sees the territorial disputes in Ladakh, Tibet and Arunachal Pradesh as a significant threat to Sino-Indian relations. Referring to the allegation that China is developing military in those areas, Singh worries that it will be difficult for India to regain their lost territory as China is claiming it.
Singh warns that the Chinese army is "ready" in the area and an imminent invasion may hurt both India and Nepal. He asked for a "Himalayan Policy" to prevent the attack from happening.
There do not seem to be too many friends of India from Singh's point of view, and he has identified China as India's No.1 enemy. Indicating that the country's foreign policy always has to comply with the United States' interest, he also criticized the government for not protect the overseas Indian citizens' well enough, referring to the incident of attack on Indian students in Australia and harassment of Indian students at the hand of authorities in the United States and the United Kingdom.
Singh also noted that India's relationship with Nepal and Sri Lanka is not as good as it once was.
Related Reading
Former Indian Defense Minister Warns of Imminent Chinese Attack