By Jennifer Park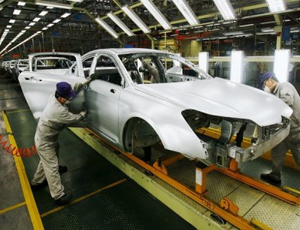 Mar. 15 – After over 100 years of dominance, the United States gave away its place as the world's top manufacturer to China last year, according to data released by IHS Global Insight on Monday.
China assumed a 19.8 percent  (US$1.995 trillion) share of total manufacturing in 2010, a dramatic increase compared to that of 6.9 percent a decade ago. This past year, U.S. manufacturing placed second with a 19.4 percent (US$1.952 trillion) share. Japan came in at a distant third with total manufacturing valued at US$1.027 trillion, followed by Germany in fourth at US$618 billion.
Despite these results, it may be too hasty to assume the decline of the U.S. manufacturing sector just yet, since the country's productivity rate remains far ahead of China in that respect.  It was shown that China required 110 million workers to produce approximately the same amount of goods that 11.5 million American workers could produce.  Moreover, the United States is still ahead of China in terms of production methods.
Also important to consider when calculating the relative value of U.S. versus Chinese manufacturing is the contribution of the Global Financial Crisis, which brought about a devaluation of the U.S. dollar, and China's relatively recent decision to start allowing its national currency, the yuan, to appreciate.
Nevertheless, it is hard to deny that the much-predicted growth in China's production and manufacturing sector has now become a reality and is projected to continue growing. China's rapid manufacturing increase of 20.2 percent per year compared to the 1.8 percent growth experienced by the United States supports this projection.