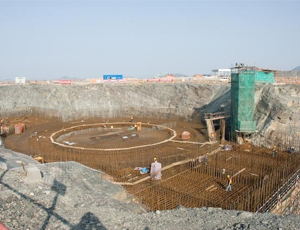 By Vivian Ni
Mar. 21 – Debates on the use of nuclear power as a form of alternative energy rose in emerging Asian countries last week as the nuclear crisis after Japan's catastrophic earthquake and tsunami stood out as a prominent threat to the public health.
China suspends new nuclear power station approvals
Chinese Premier Wen Jiabao urged the country to obtain a complete understanding of how important nuclear safety is at an executive meeting of the State Council on March 16. The meeting decided to conduct an immediate safety review on operating nuclear reactors and nuclear plants under construction across the whole nation. It also announced that China will suspend all approvals of new nuclear power projects before the authorities go through the national safety review thoroughly.
Although nuclear power only accounts for 2 percent of the country's total annual power generation, China is regarding nuclear power development as one of the essential means for energy generation. The country has named 13 locations across its major coastal cities for prior nuclear power station expansion.
Currently China has six nuclear plants with a total of 13 nuclear reactor units in operation.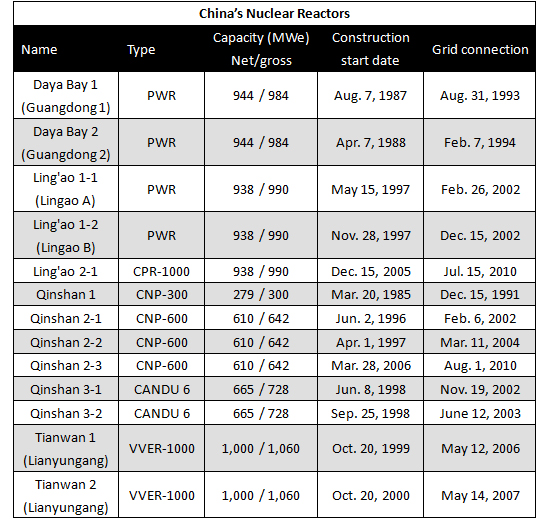 In addition, there are still 27 nuclear reactor units under construction and the government plans to complete most of them by 2015.
The Chinese public has been concerned over the safety of the country's nuclear stations, especially after two radiation leaks at Guangdong's Daya Bay nuclear power station last year. The government claims that it has taken earthquake risks into consideration when handpicking locations for nuclear plants.
Indian Prime Minister Singh calls for revisits to nuclear safety strategies
Indian Prime Minister Manmohan Singh asked for an urgent safety review on the country's 20 nuclear power plants this week. Commenting on the disaster in Japan, he said the damaged nuclear plants "should make us revisit strategies for nuclear safety, learning lessons from these experiences."
As an emerging economy still faced with a limited supply of energy, India is seeing nuclear power emerge as the fourth largest source of the country's electricity, following thermal, hydroelectric and renewable sources. Up through 2010, India has established 20 nuclear reactors in six nuclear power plants generating a total of 4,780 MWe.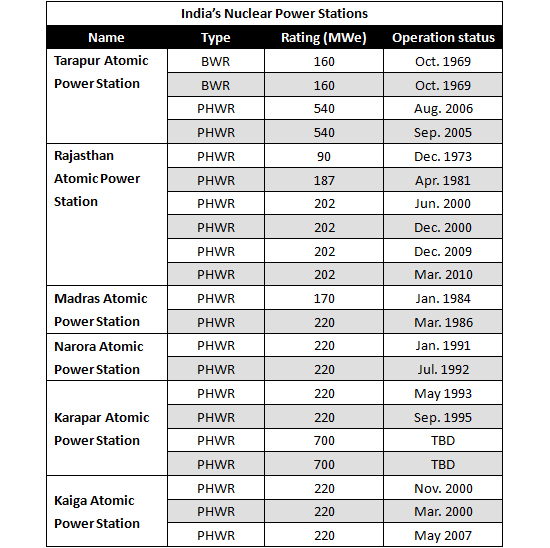 With another five plants under construction, India hopes to see its nuclear power output reach 64,000MWe by 2032.
Nuclear power a controversial issue
While China and India show more caution on the potential risks of nuclear power expansion, several eastern European countries chose to play down the nuclear crisis in Japan in order to maintain their plans for rapid nuclear power expansion.
Russia, whose nuclear power contributes 16 percent to its total power generation every year, is looking to double its nuclear power generation by 2020, in order to reduce natural gas consumption. Lust last week, Russia signed a new agreement with Belarus to finance and build the country's first nuclear power plant, which is worth US$6 billion.
Poland, the country that is considering its own nuclear power projects, is not likely to give up their plans either, according to the country's Prime Minister Donald Tusk.
While nuclear power is playing an increasingly important role in global energy supply by providing 6 percent of the world's energy and 13 percent to 14 percent of the world's electricity, many anti-nuclear opponents still argue that nuclear power poses too many threats to people and the environment. Most of those people are concerned over the risks brought by earthquakes and nuclear waste.
After the radiation leakage in Japan, the application of renewables such as wind energy and hydropower as alternatives to nuclear power has turned into a popular topic in people's discussions. As a result, stocks in China's clean energy sector showed strong signs of growth late last week – a small positive sign in the dismal post-quake market.
Related Reading
China Releases New Guidelines on Renewable Energy Architecture