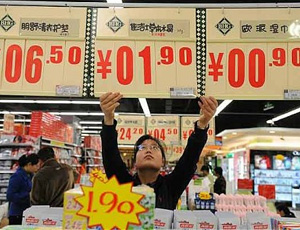 Apr. 8 – A recent quarterly report by HSBC observed that emerging nations have started applying "quantitative tightening" policies to counter inflation. However, the impact of such policies remains unclear, since the surging commodity prices might have just been the inevitable result of global structural changes that are combined with the emerging world's strong growth and the West's comparatively loose monetary policies. The report also points out that if the tightening monetary policies do work, the economic growth in the emerging markets will slow down, and finally put inflation back in control.
The Emerging Markets Index report of the first quarter 2011, issued on April 7, is calculated based on the purchasing managers' index (PMI) data co-produced by the HSBC and Markit, a global financial information services company. According to the report, the PMI has eased to 55.0 during the first quarter from Q4 2010's 55.7, showing a steady but slowed down growth pace in emerging markets.
Manufacturers are still bearing high costs since the purchase price inflation rate remains at a two-and-a-half year high – as it did during last quarter. The new export business increase that usually supports the growth of manufacturing production slowed down considerably compared to the rate one year earlier despite some regions – including India, Hong Kong, Taiwan and South Korea – showing solid (even steep) expansion in the area. The growth rate of new export orders in Brazil and China was only slight.
The growth rate in service sectors dropped to a seven-quarter low, with China and Russia seeing a slower expansion, Brazil reporting a moderate increase, and India marking its growth fastest in three quarters.
As many emerging economies regarded inflation as the major risk to robust economic development, policy makers have started to take "quantitative tightening" measures, mostly by raising interest rates and reserve requirement ratios to avoid the local currency appreciation, in the hope of eventually checking inflation.
Stephen King, HSBC's chief economist, believes the policies to curb inflation will bring various benefits to the emerging nations. At the very least, they will help alleviate the social and political instability factors that are highly related to the surging food and energy prices.
However, the report also predicts that the tightening monetary policies will constrain business activities. The author's forecast that GDP growth in emerging markets will slow significantly to 6.3 percent in 2011 from 2010's 7.5 percent.
Related Reading
PBC Announces 0.25% Interest Rate Hike
Property Prices May Decline in Mumbai. What About Shanghai?
China Factory Growth Slows, PMI in Retreat
China's GDP up 10.3% in 2010, but Inflation Remains a Concern
Report: Manufacturing in Emerging Markets Drive Growth, Inflation Still Problematic