By Vivian Ni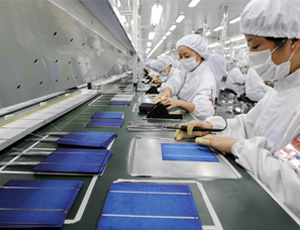 Apr. 12 – The global solar cells and modules market will reach a volume of US$67.8 billion by 2015, a recent report by Global Industry Analysts (GIA) forecasts. In the future, Asia will be playing an increasingly important role in the sector, with the massive industrial emergence of China, Taiwan and India. The GIA research report, titled "Solar Cells and Modules: A Global Strategic Business Report," provides a comprehensive review of the global photovoltaic industry development.
Owing to the increasing concerns over rising electricity costs and global warming, the photovoltaic industry saw steady growth before the Global Financial Crisis. However, 2008's financial meltdown slowed the industry down due to sluggish increases in demand. Prices for solar cells and modules declined sharply because a massive inventory built-up had led to a capacity oversupply to the limited solar energy utilization.
The market recovered quickly in 2009, thanks to various governmental incentives that facilitate the development in novel technologies and infrastructure. The remote power generation advancement and growing on-grid applications have considerably spurred the solar power industry. Government financial support towards research and development activities in the sector have also ushered in a rapid increase in technologies that are enabling the debut of cheaper, but more efficient solar cells.
Asian solar cell producers are growing into the global market's major contributors. Solar cell production in China and Taiwan together accounted for about 49 percent of the global production volume in 2008. Both the Indian and Chinese governments introduced industrial subsidies and adopted expansionary monetary policies in 2009 in order to ensure a supply of sufficient funds to the industry.
China, which has established a huge amount of production facilities since 2005, became the world's largest solar cell producer with an output of 1,180 megawatts in 2007. In 2009, with the government's launch of the "Golden Sun" incentive program, a number of major Chinese solar companies including Suntech Power, Yingli, LDK Solar Co, JA Solar and ReneSola each announced cooperation with local governments for projects of hundreds of megawatts.
Despite the optimistic market prospects in general, the future of the solar industry in emerging markets is still faced with numerous challenges. The heavy pollution during production and backward technologies are the major roadblocks, a crystalline silicon cell specialist working at a Chinese solar technology research institute told Asia Briefing on a telephone interview.
"The PV industrial chain can be segmented as silicon wafer manufacturing (upstream), solar cell manufacturing (middle stream) and solar module assembly (downstream)," the specialist said. "Taking the Chinese market as an example, most manufacturers are involved in middle and downstream production that causes acid, alkali and heavy metal pollution."
"The comparatively backward technologies and facilities of many emerging small and medium sized enterprises in the sector resulted in a much higher production cost. The high cost, together with low battery efficiency and heavy pollution, has made solar energy less applicable," he added.
Emerging economies also carry the mission to improve the power transfer infrastructure that further enables domestic solar energy utilization. For example, the majority of China's solar industry profit still comes from exports, not its domestic market. As some major solar consumers such as Germany and Italy have started to see a tightening governmental subsidy policy applied in the sector, Asian producers are in an urgent need to seek new avenues of consuming their excess solar power supply.
Related Reading
China 1st, India 10th in Clean Energy Investment Attraction
12th Five Year Plan Hailed as 'Greenest FYP in China's History'