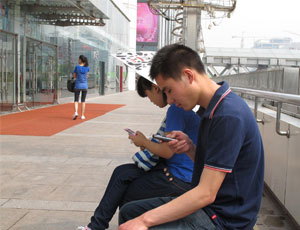 Apr. 22 – A bigger portion of companies' advertising budget may go to mobile web sites in BRIC (Brazil, Russia, India and China) countries, as a large and stable mobile user population has been put in place, and mobile internet is becoming increasingly accessible. A recent report by digital intelligence company eMarketer forecasts rapid growth in mobile advertisement spending in all the BRIC countries and predicts China could soon grow into the world's largest mobile web market.
In China, although mobile online advertising only started to become a common marketing method a few years ago, it has seen rapid growth and reached a large volume. The total mobile advertisement spending doubled between 2009 and 2010, from US$101 million to US$223.2 million. The figure is expected to reach US$448.7 million in 2011, about a half of the United States' predicted 2011 spending. Some US$1.4 billion will be spent on mobile online advertising in China by 2015, marking a growth rate that will surpass that of the United States.
Besides China, the overall mobile ad spending in the rest of the BRIC countries is still comparatively low; however, they are catching up as well. The report says all the BRIC countries will enjoy high-speed double-digit growth rates between 2012 and 2015.
The growth in mobile advertisement spending comes together with the rapidly-increasing mobile internet user population. Among China's 371.2 million mobile phone users, half of them will access the mobile web at least once a month by the end of this year. Over 600 million people will access mobile internet for information by 2015, making China the largest and most attractive market for mobile online advertisers.
Mobile web penetration in India and Brazil is still pretty low at 11 percent to 12 percent, but growth in these markets is also expected to be dramatic over the next few years. By 2015, India will see 34 percent of its mobile users access mobile internet; while this ratio in Brazil will rise to 25 percent.
Related Reading
Virtual World Providing Developing Countries with Real Opportunities