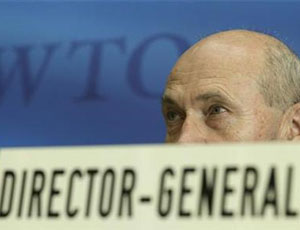 Apr. 26 – The 10-year-old Doha Round of the World Trade Organization (WTO) talks is faced with a "serious risk," due to the fundamental disagreement between the United States and major emerging economies including China, India and Brazil on the tariff cut scale of manufacturing goods.
Pascal Lamy, WTO's Director General, commented on April 21 that the differences between the developed and developing countries over how aggressively they should cut manufacturing trade barriers were "unbridgeable," after he consulted with seven WTO members – Australia, Brazil, China, the European Union, India, Japan and the United States.
The Doha Round, first started in November 2001, has two different tariff reduction formulas established – one for developed and one developing countries – in line with its goals to strengthen both global trade liberalization and assistance to the developing world. However, the United States, representing the developing world, has complained about the pressure of further cutting its already low tariffs and considerably reducing tariffs on some sensitive goods, such as textiles and trucks. It requires major emerging economies that will still be able to keep much higher duties under their formula to commit to more significant tariff cuts in some sectors such as chemicals, industrial machinery and electronics.
Worrying that the unleveled playing field will bring a great threat to the multilateral trading system and hurt the country's own interest, the U.S. Congress may not approve an agreement that does not benefit the U.S. exporters of agricultural products, manufacturing goods and services.
However, major emerging economies China, India and Brazil refuse to compromise on U.S. offers, bringing the whole talk to a stalemate.
Following a former top U.S. official's pessimistic comment that the Doha Round was "doomed," it remains to be seen if the upcoming discussions among all the WTO members on April 29 in Geneva will be faced with a total failure.
Former U.S. Trade Representative Susan Schwab suggested that instead of hoping for a perfect closure, it might be more realistic for members to reach compromises in the fields they can.
Schwab pointed out that tariff cuts in areas like healthcare, pharmaceuticals and medical equipment are still negotiable. Some environmental agreements such as bringing down trade barriers to green technologies in major producing and consuming countries can also be an area members place their emphasis on.
Although it might be difficult for all member to agree on fully realizing the Doha goal of slashing barriers and subsidies in farming, some proposed agreements on agricultural export credits, food aid, and agricultural export subsidy elimination may still be reachable.
A study by the Washington-based Peterson Institute shows that even a "trade facilitation" agreement, instead of the realization of complete global trade liberalization, will still considerably reduce the costs of moving goods across borders and expand the global gross domestic product by US$100 billion.
Related Reading
China Welcomes WTO Reverse Ruling on U.S. Steel Duties
China Wins Duties Case against EU in WTO Courts
India, China Request More Balance in WTO Secretariat