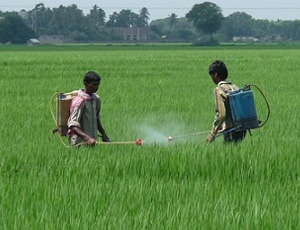 Apr. 27 – India has earned support in the United Nations from countries such as Japan, South Korea, Bolivia, Oman and China in its efforts to cast aside a recommendation by the UN Environment Program to ban endosulfan, a chemical widely used around the world as an insecticide.
Within India itself, the chemical is subject to a contentious debate. The southern rural states of Kerala and Karnataka have taken the lead in attaining its ban, but both agribusinesses and local farmers seem unwilling as alternatives are costly.
In 2001, the Stockholm Convention on Persistent Organic Pollutants, an environmental treaty, declared the chemical as a persistent organic pollutant and sought its ban due to its toxicity, potential for bioaccumulation, and its disruptive role in endocrine secretion in humans. It is also moderately harmful for beneficial insects such as honeybees and ladybugs as well as to ones that the chemical is used to destroy.
Already 60 countries, including 27 European and 21 African nations, have banned the chemical, while the United States, Canada and Brazil are phasing out its use. Ten years later, the ongoing conference in Geneva, scheduled to continue until Friday, has raised the issue again.
On Monday, India circulated a paper that urged the recommendation of the environmental review committee be set aside. Its argument rested two premises: the pesticide ban was not based on sound scientific criteria and that the decision to ban was reached not by consensus, as is usual for environmental undertakings, but was conducted by a majority vote and therefore in violation of protocol.
It also argued that the chemicals the committee suggested as alternatives showed POP characteristics, with some even exceeding those of the pesticide, and that endosulfan's risk profile had not been properly prepared.
Bahrain, Qatar, Jordan and a few others requested that India nix a paragraph from the draft paper, presented on behalf of the Asia-Pacific region, which argued the adverse health effects of endosulfan had not been established.
On Tuesday, India took the lead and insisted on reaching a consensus. Japan came forward with support, and said that complying with a ban required the inclusion of an implementation mechanism which the panel's recommendations currently lacked.
"The fact that the Stockholm Convention itself does not specifically contain a provision to offer financial or technical assistance was probably lost in the discussions," said Mr R. Hariharan, chairman of International Stewardship Center, who is also attending the meeting.
Many developing countries such as Indonesia and Uganda have raised the issue for financial and technical assistance in the event of an endosulfan ban.
The chemical is used throughout countries such as China and India and is produced by Makhtesthim Agan and the Indian SOE Hindustan Insecticides Limited.
India's share in the global endosulfan market is over 70 percent and produces roughly 12 million liters, valued at a total of Rs 4,500 crore (about US$1 billion). Fifty percent of what endosulfan is produced in India, or 35 percent of the world's endosulfan, is exported to China.
Prime Minister Manmohan Singh is currently seeking states' opinions to get a national-level consensus before making a decision whether to ban the chemical. The Prime Minister is unopposed to the ban, but needs to also be convinced that it is harmful to the health of human beings before imposing a nation-wide ban, according to the Deccan Herald, an Indian newspaper. To this effect, Singh has asked the Indian Council on Medical Research to expedite the speed by which its ongoing study is being conducted.
Editor's note, Apr. 28: This article originally reported that endosulfan is also produced by Bayer CropScience. This is incorrect. Bayer CropScience stopped manufacturing products containing endosulfan and discontinued sales of these products worldwide by the end of 2010.