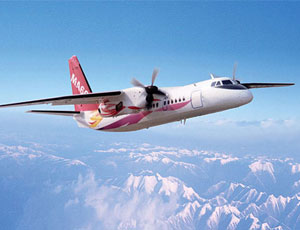 May. 10 – An Indonesian MA60 turbo-prop plane carrying 27 people crashed into the ocean off the country's easternmost Papua Province on May 7, leaving no survivors according to a navy officer's confirmation. As the first fatal accident reported for this model, which was developed and made in China, the crash may temporarily set back the plane's improving sales records worldwide.
According to Transport Ministry official Bambang Ervan, the aircraft, operated by Merpati Nusantara Airlines, was enroute to the small port town of Kaimana from the coastal city of Songrongand with 21 passengers and six crew on board when it crashed 500 meters short of the runway.
An unnamed navy officer, who joined the survivor search and rescue, confirmed to ElShinta radio that all the passengers were killed, as the plane exploded and crashed into the sea.
While the actual cause of the crash has not been released, Ervan indicated "the weather was pretty bad at the time." The plane's Chinese maker, AVIC Xi'an Aircraft Industry (Group) Company Ltd (XAC), said it has sent out a working team for a joint investigation into the cause of the wreckage.
Some analysts in China, the original production land of the crashed airplane, worry that the accident will have a negative impact on the improving reputation of the MA60 manufacturer which has attracted an increasing number of orders home and abroad over the past few years. However, some other experts are not that concerned. They believe the influence of the crash on MA60 sales will only be temporary since Indonesia, the country with one of Asia's worst air safety records, has already seen a number of commercial airline crashes in recent years.
The MA60 airliner is currently the only aircraft model featuring China's own intellectual property among the civil regional aircraft produced by XAC with 50 to 60 seats. Having received its type certificate from the Civil Aviation Administration of China in 2000, the aircraft is currently being used by three Chinese airlines and is exported to several African and Asian countries. Merpati Airlines' purchase contract of 15 MA60 aircraft with XAC in 2006 marked the largest purchase quantity in China's civil airliner export history.
Carrying a significant price advantage, the Xi'an MA aircraft series (MA60 and MA600) has received 196 orders – among which 180 orders were for the MA60 – from 13 countries so far. However, a good air safety record seems to be particularly critical for the MA60 aircraft at the time being, since it has not been type certified by the U.S. Federal Aviation Administration yet. The first overseas type certificate it received was an airworthiness certificate granted by the Indonesian authorities.
Related Reading
New Chinese 'Stealth' Fighter Plane Sighted