By Vivian Ni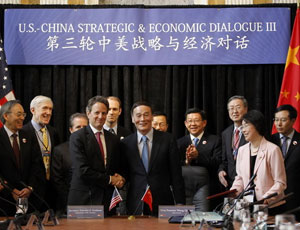 May. 12 – The two-day U.S.-China Strategic and Economic Dialogue closed on May 10, with both sides saying the progress made will further facilitate stronger relations between the world's two biggest economies.
The United States and China signed a "U.S.-China Comprehensive Framework for Promoting Strong, Sustainable and Balanced Growth and Economic Cooperation" on the last day of the bilateral meeting, emphasizing prior cooperation in four areas: macroeconomic issues, trade and investment, financial services, and international affairs.
Currency issue
The currency issue proved to be a major U.S. concern during the meeting, since U.S. exporters believe that the yuan's artificially low exchange rate has been hurting their interests. At the meeting, the U.S. authorities urged China to move at a faster pace for the yuan's liberalization, while the Chinese officials only made a promise to increase the "flexibility" in the yuan's exchange rate.
Although differences in opinion on the currency issue still exist, the U.S. government may feel more encouraged to see that China has actually boosted the yuan's value by 5 percent since last June, mostly for the purpose of fighting its domestic inflation. The faster appreciation came together with China's tightening monetary policy against its domestic consumer price index surge and its broader yuan internationalization strategy.
However, China does not agree that the yuan's value is the real reason for the ballooning Sino-U.S. trade gap. Chen Deming, China's commerce minister, pointed out that the yuan's appreciation has been carried out in a "very healthy manner" and the United States needs to impose less restrictions on its high-tech sales to China.
Improving fairness for investors
A lack of transparency and fairness in China's business environment is another persistent complaint coming from many U.S. investors. For example, American companies are often in a disadvantageous position when competing for government procurement, which heavily impacts companies' regional operational strategies.
China is making attempts for some changes in its legal regime though, according to Vice Premier Wang Qishan. He said the Chinese government will rewrite some discriminative regulations that may have prevented many U.S. firms from competing for government procurement. Both national and provincial departments will also endeavor to increase the clarity and transparency of newly-issued laws, in order to reduce complexity in China's business environment.
U.S. Treasury Secretary Timothy Geithner thinks China's future policy improvement is "very promising" and the U.S. government is confident to see "substantial ongoing improvement in the opportunities that American companies have in the Chinese market" in the future.
In the face of requests from U.S. investors for equal market access and reduced market barriers in China, Chen hopes that the U.S. government can also relax its strict screening of Chinese investment plans in the United States. Commenting that the screening is "discriminative," Chen calls for a fair treatment from the U.S. side to Chinese investors, especially to state-owned enterprises.
Protecting intellectual property rights
As the world's foremost knowledge-centered products explorer, the United States loses vast amounts of money every year in China's booming piracy market. Although China seems to have attached more importance to IPR protection recently by launching various campaigns that crack down on IPR infringement, many U.S. high-tech companies did not think the effort was effective enough. The Business Software Alliance (BSA), the world's foremost advocate for the software industry, complains there is still too much illegitimate software used in China. According to BSA President and CEO Robert Holleyman, 80 percent of software programs installed on Chinese personal computers are still pirated, and this means "commercial theft of nearly US$8 billion a year."
The Chinese government has come to realize the urgency of improving its domestic IPR protection conditions, as many emerging national high-tech companies are also finding their IPRs threatened. Delegates at the meeting said China will not only continue its crack-down campaigns, but will also strengthen the inspections of the government's software use, to ensure they are all using copyright versions.
Opening up financial markets
A significant breakthrough the bilateral talks made this time around is that China has agreed to allow greater market access to foreign financial firms. In particular, the U.S. companies will be able to manage and sell mutual funds in China, and sell auto insurance to the world's largest car market.
At the same time, the two countries also discussed how the Chinese financial market can become more regulated and market-based. The U.S. delegates called for a more market-oriented bank lending system, with liberalized interest rates. They hope banks in China can determine loan issuance by how dynamic the enterprises are, so that financial resources can be reasonably distributed.
A fair and transparent financial market will enable American firms to have better opportunities for growth. Not only will they be able to reduce the cost of entering the market, but they will also be able to compete more efficiently with their higher credit and better services. In addition, the development of China's financial sector will create new demand that may help balance the trade disparity between the two countries.
Related Reading
China Tops U.S. to Become the World's Leading Manufacturer
Hu and Obama's Joint Press Conference: The Topics Discussed
China's Hu Touches Down in U.S. for Four-day State Visit
China Says RMB Exchange Rate Not up for Discussion at Upcoming G-20 Summit
Dezan Shira & Associates Resource Library: Intellectual Property China