By Vivian Ni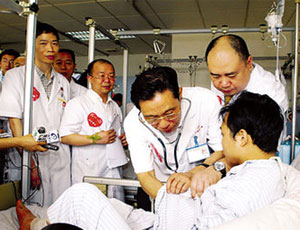 May 18 – A recent World Health Organization (WHO) report shows that China has outperformed India in improving general health conditions of its citizens during the past decade by reporting less infectious disease cases, having a wider coverage of various medical services, and seeing longer life expectancy.
The report "World Health Statistics 2011" says China, despite having a slightly larger population than India, reported fewer cases of many conventional infectious diseases than its neighbor in 2009. For example, as confirmed malaria cases have declined in general worldwide, China reported 14,491 cases, a comparatively low number among developing countries, against India's 1,563,334 cases. And although prevalence of tuberculosis in China still stayed quite high at 965,267 cases in 2009, India reported even more at 1,351,913 cases with prevalence 1.4 times higher.
According to the WHO study, China is seeing a coverage rate ranging from 85 percent to 95 percent on distinct basic medical services, such as antenatal care, immunization, and detection rate for tuberculosis. However, those services are much less accessible in India, where the coverage varies from 45 percent to 75 percent. The prevalence of antenatal care and professional birth care is typically low at around 50 percent – compared to China's over 90 percent – which may have formed the major reason for India's high child and maternity mortality rates.
Another WHO report on health systems financing also cited China's medical insurance reform as an example of developing countries improving their financing systems towards universal coverage. China initiated a scheme in 2003 with the goal of increasing the proportion of its population covered by formal insurance from 15 percent in 2003 to 90 percent by 2011. The scheme has greatly reduced dependence on direct payments, and improved medical financing in rural areas.
While a developing health insurance system tends to provide everybody with wider access to basic health care, income disparity is another important indicator that influences poor people's acceptance of medical services. Both China and India still have large portions of their populations living in extreme poverty (living on less than US$1 a day), but India has a larger portion of poor people (41.6 percent) compared to China (15.8 percent).
Although India has seen impressive development in its people's life expectancy and overall health, maternal and child mortality still stays typically high in the country. Its child mortality is around three times higher than China, and maternity mortality stands even higher, with 230 death cases in every 100,000 moms in 2008, 6.1 times higher than China's 38 cases.
Among children within different age ranges, those aged less than five in India are exposed to higher risks of mortality – around 66 die in every 1,000 children in 2009, while the death probability for children this age in China is around one-third as much.
Both countries have extended the average life expectancy at birth by three to four years over the past decade. However, Chinese seem to be living longer, with average life expectancy at birth of 74 years against India's 65 years.
Related Reading
Health Care Reform Aims to Cover 90% of Chinese Citizens by 2011