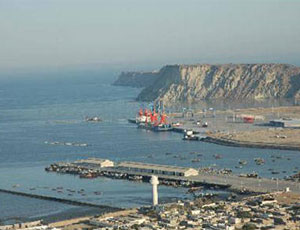 May 24 – China's "good neighbor" Pakistan recently confirmed to the Financial Times (FT) that it has requested China to build a naval base at its China-financed southwestern port of Gwadar and hopes to see the Chinese navy maintaining a regular presence there.
Pakistan's Defense Minister Chaudhary Ahmed Mukhtar said that China had heard Pakistan's offer during Prime Minister Yusuf Raza Gilani's China visit last week. The visit, which mainly aimed at strengthening the 60-year-long alliance between the two countries, shortly followed the killing of Osama bin Laden which has increased tension between Pakistan and the United States.
A senior Pakistani official described the naval base as "something" that will "allow Chinese vessels to regularly visit in (the) future and also use the place for repair and maintenance of their fleet in the (Indian Ocean region)," according to an FT report.
The naval base proposal has made both India and the United States nervous. Christopher Yung, a senior researcher at the National Defense University in Washington, warns the possibility that China may start having more and more access to overseas naval bases is an indication that the country intends to expand its military influence globally.
The U.S. Congress has also reacted strongly to the promises of mutual support between China and Pakistan with legislators calling for the U.S. government to reconsider the US$3 billion in aid it provides Pakistan every year.
With no direct public response to Pakistan's offer, China is still trying to show a friendly face to its other Asian neighbors and the United States, emphasizing that China's peaceful rise will only be beneficial to the world rather than imposing a new threat.
However, many western analysts believe Beijing's long-term interests – especially its need for more energy in the Middle East and increasing its military deterrence worldwide – give China every reason to desire an out-of-country naval base of its own. The base will allow China's military ships and submarines to conduct regular patrols and exercises in the Arabian Sea to protect the increasing Chinese oil tankers in the region; it will also provide China's anti-piracy operations in the Gulf of Aden with perfect port access, through which it can restock daily necessities and swap staff as well as offer maintenance.
Related Reading
China Releases White Paper Highlighting Military Spending
India and Singapore Conduct Joint Naval Exercise in South China Sea
China's Navy an Emerging Global Force
India to Strengthen Presence in Indian Ocean to Counter China's Influence
Indian and Chinese Naval Vessels in Tense Standoff near Somalia