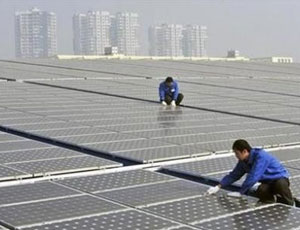 May 30 – The Asian Development Bank announced last week that it will inject around US$60 million into three venture capital (VC) funds in order to facilitate the development of green technologies in China and India.
The three funds – named Aloe Environment Fund III, Keystone Ventures II, and VenturEast Life Fund III – will be invested in early-stage clean-tech companies that can help confront the challenges brought by climate change and environmental pollution. China and India will become the major destinations where the funds flow, since both markets are making significant efforts to develop sustainable technologies, and promote their green energy industries.
The bank says it will allocate US$20 million to each fund, and the three funds will together leverage an additional US$600 million to US$700 million in private sector investment.
The Aloe Fund aims to make up to 10 investments of around US$29.6 million each. The investments will go to Asian companies whose clean technology transfer and know-how technologies can be used in China, India and potentially some Southeast Asian countries.
The Keystone Fund will make around 15 investments of around US$15 million each targeting companies that are involved in "climatch" such as light-emitting diodes, electric vehicle and power batteries, industrial energy efficiency as well as waste treatment.
The VenturEast Fund will mainly focus on the Indian market, with an injection of 15 to 18 small-scale investments of up to US$15 million across distinct sectors, including healthcare, sustainable agriculture and clean environment technologies. The target companies are usually the ones that seek to apply proven technologies from other regions.
Philip Erquiaga, director general of ADB's Private Sector Operations Department, said the VC investment is highly necessary because climate change is going to badly influence Asia in the coming decades. In order to tackle the future environmental challenges and push for sustainable development in Asia, access to sufficient private capital is critical for many companies to realize their technology innovation and transfer.
Related Reading
China 1st, India 10th in Clean Energy Investment Attraction
China Tops Renewable Energy Investment Index
India, China Clean Tech Comparison