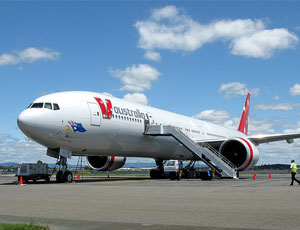 Jun. 7 – Virgin Australia Airlines, the country's second-largest airline, has just inked a code-sharing deal with Singapore Airlines (SIA) which will provide customers with access to more destinations. With analysts describing it as the worst nightmare of Qantas – Australia's largest airline – the deal will help Virgin Australia capture the numerous opportunities brought by leisure and business travel demands generated from the Chinese and Indian markets.
The new deal, which is expected to be completed by the end of the year if given regulatory approval, will enable both airlines to code-share on domestic and international flights, opening up over 400 new destinations for customers.
Virgin Australia's CEO John Borghetti said that the key target of the alliance is to make use of Singapore's strong connectivity with China as well as India and attract more business travelers. In an example he gave, Borghetti said they noticed many Chinese companies that are involved in Australia's mining industry will have their office presence in Singapore. The new destination options will enable Australian businessmen and women to fly to Singapore for business visits and avoid the difficulty of entering China or India.
Having not mentioned any plans for the airlines to operate on new routes, Borghetti said Virgin Australia will consider expanding its international route network when "there is requirement for additional capacity or frequency." Borghetti is confident the new deal will make Virgin Australia more competitive in the country and create new demand.
A recent airline industry profit forecast by the International Air Transport Association somewhat proves the alliance between Virgin Australia and SIA to seek increasing demand from China and India does seem to make a lot of sense. According to the profit outlook report, the global airline industry is predicted to suffer a significant drop in profits this year as a result of natural disasters in Japan, unrest in the Middle East and North Africa, and surging oil prices. However, China and India are the most dynamic markets to offset the regional negative factors and largely contribute to Asia-Pacific carrier profit, which is forecast at around US$2.1 billion, or more than 50 percent of predicted global profit. The robust growth in the two countries will also drive the area to be the only region where demand increase is expected to outpace capacity growth.
Related Reading
AirAsia CEO Named Forbes Asia's '2010 Businessman of the Year'
India Spicejet to Launch US$20 Chennai-Colombo Route
Kingfisher to Begin Delhi-London Daily Route Next Month
Malaysian Budget Carrier Grows India Route
International Airlines to Expand in India Despite Aviation Market Downturn
Airbus: China and India Will Account for 31 Percent of World Demand