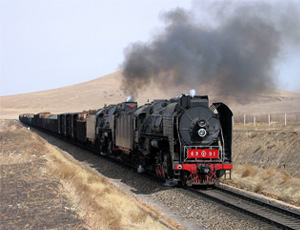 Jun. 9 – Mongolian President Tsakhiagiin Elbegdorj has been in Russia recently meeting with Russian President Dmitry Medvedev and Prime Minister Vladimir Putin. One of the key issues at stake is the development of an additional 6,000 kilometers of rail track, a requirement that has been put out to tender but is increasingly looking at going to Russia.
Russia's railway monopoly OAO Russian Railways is prepared to invest US$1.5 billion towards this train network to help boost trade between the two countries, according to CEO Vladimir Yakunin.
The two countries also signed an agreement to extend the Ulaanbaatar rail network, which is a Russian/Mongolian JV, by a further US$250 million in capital to extend capacity to the Tavan Tolgoi coal deposits in the South Gobi.
Mongolian rail runs on Russian gauge track, and plans are in place to connect Mongolia with the Trans-Siberian line that connects with Russia's east coast and the port facilities at Vladivostok. This bypasses the need for Mongolia to send exports through Chinese territory.
Mongolian-Russian trade rose to US$1 billion last year and is expected to significantly increase given the massive coal and mineral reserves Mongolia possesses. The nation is increasingly being viewed as an alternative supplier to China given the Chinese tendency to politicize trade.
Related Reading


Investment Opportunities and Developments in Mongolia
This new, 12-page introduction features the very latest developments in Mongolia in terms of foreign investment in the country. With contents derived from speeches made by, and interviews with the Mongolian president, prime minister, finance minister and Resources Ministry, this report outlines both the opportunities and development risks in the country.
Russia Briefing
Offering regular news relating to the Russian economy, the market in Russia, foreign direct investment and Russian law and tax.