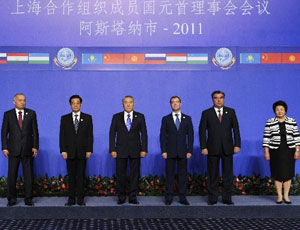 Jun. 16 – Member country leaders of the Shanghai Cooperation Organization (SCO) gathered at a summit yesterday in Kazakhstan's capital Astana to celebrate their past achievements and to direct their future cooperation.
The SCO, which presents itself as a counterbalance to the North Atlantic Treaty Organization, was founded 10 years ago, when instability factors and security concerns cast a shadow over Central Asia. Rampant threats of war and terrorism in the region facilitated the growing desire to strengthen reciprocal cooperation and confront challenges through joint efforts, and therefore gave birth to the establishment of the SCO.
In compliance with the organization's primary goal at its founding, cooperation on security issues among the six member countries – China, Russia, Kazakhstan, Kyrgyzstan, Uzbekistan and Tajikistan – has become one of the major tasks over the past decade and will still be a critical mission in the future. In his keynote speech at the summit, Chinese President Hu Jintao defined such cooperation as one of the priorities and emphasized that the SCO needs a better cooperation mechanism and greater interoperability among members to fight the "three evil forces" of  terrorism, separatism and extremism. Hu also stressed the importance of collaborating to combat other menaces in the region such as narcotics production and trafficking, as well as multinational organized crime.
Some SCO observer states and dialogue partners have also related their concerns over regional security and efforts to combat emerging threats. Pakistani President Asif Ali Zardari – leader of one of the observer nations – believes both the "three evil forces" and drug problems are serious threats to the security and well-being of his country, and the country is committed to combating these challenges. He also stressed drug problems do not only harm the Pakistani people, but also fuel militancy and terrorism in return. In addition to Pakistan, other SCO observer states include India, Iran, and Mongolia, while Sri Lanka and Belarus are involved as dialogue partners.
Iran's President Mahmoud Ahmadinejad condemned the United States and the West passionately in his remarks at the summit, saying 60 years of Zionism has only brought humiliation and destruction to the Palestinians and the region. While Ahmadinejad tried to curry favor from SCO members – referring to them as nations and governments not responsible for those historic ills such as slavery, colonization, pillaging of other countries, major wars and nuclear warfare – the other leaders present remained impassive during his comments and only gave brief speeches afterwards. However, it was reported that the topics related to the Palestinian-Israeli conflict were brought up between Ahmadinejad and his counterparts on the sidelines of the summit.
As China's economic progress continues at a rapid pace, there is an increasing need for expanding economic cooperation within the region. Multiple levels of economic interaction do not only include increasing trade and investment, but also enhance the developing regional connectivity in transportation, energy and telecommunication infrastructure. As China's Hu said, the cooperation should aim at leading the region to further economic integration.
The trading ties between China and Russia have been significantly strengthened over the past 10 years. In order to ensure its massive energy demands are met, China has been actively seeking cooperation programs with energy-rich countries like Russia. In 2010 alone, bilateral trade between China and Russia reached US$60 billion. According to a recent report by Chinaknowledge, Russian President Dmitry Medvedev has set up a target to realize a US$100 billion bilateral trade volume with China in the next three to five years, and Chinese President Hu also said it is possible to achieve the goal.
One day ahead of the SCO Summit, President Hu also talked with his Tajik counterpart President Emomali Rahmon, underlining China's will to deepen cooperation with Tajikistan in areas including trade, infrastructure, mining, communications and agriculture. Hu added that China will be happy to join Tajikistan's large-scale infrastructure projects, including the construction of the Karasu-Kulma Port connecting the two countries.
India and Pakistan – two observer states of the SCO and also two countries often regarded as enemies – expressed their will to join the organization in the near future. Pakistani President Zardari looks forward to receiving full-fledged SCO membership soon, hoping his country can benefit from the regional cooperative initiatives of the organization. Indian External Affairs Ministers SM Krishma hopes the SCO will issue clear criteria for accepting new members soon so that India can "play a larger and deeper role" in the bloc.
Related Reading
Shanghai Cooperation Organization Meets in Dushanbe, Tajikistan
The Shanghai Cooperation Organizations Growing Trade Influence