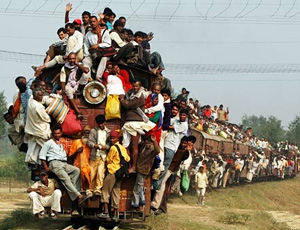 Jun. 29 – India will overtake China as the world's most populous nation by 2025 and the combined populations of the two countries will reach nearly 3 billion by 2050, according to projections released by the U.S. Census Bureau earlier this week.
The bureau's forecasts suggest that India will add some 467 million people to its population over the next 39 years, much more than any other nation. China, meanwhile, is expected to see its total population drop by 33 million.
By percentage increases, however, India is far from first. Ethiopia's population is forecast to triple in size to 278 million and Nigeria is set to more than double to 402 million over the same time-frame, making them the seventh and fourth most populous countries, respectively.
Primarily through immigration, the United States is expected to add roughly 111 million people to its total population by 2050, maintaining its current ranking of third on the list with a projected population of around 422 million.
Russia and Japan, however, are slated to fall out of the top 10 most populous countries list largely due to persistently low fertility rates. Both countries are expected to see a drop in overall population, Russia by more than 29 million people and Japan by about 20 million.
Below is a chart of the top 25 most populous countries today and the U.S. Census Bureau's population forecasts for each through to 2050. For a complete list of all 228 countries and regions included in the database, please click here.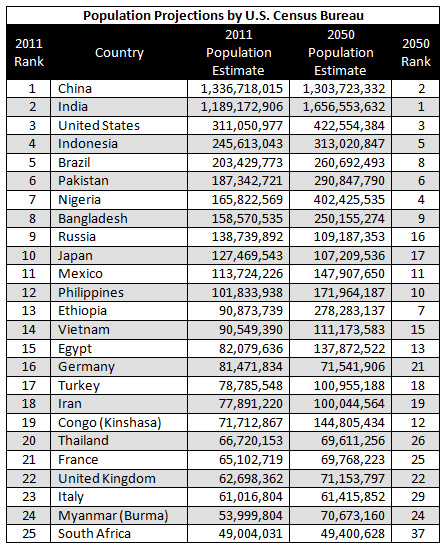 Related Reading
Global Economy's Center of Gravity to Shift East, Settle between India and China
India May Overtake China in GDP Growth by 2012