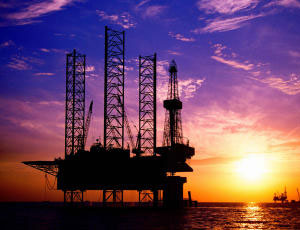 Jul. 6 – China's State Oceanic Administration (SOA) disclosed investigation details on the oil spill near the Penglai 19-3 oilfield in North China's Bohai Bay yesterday, saying the oilfield's operator – the United States based ConocoPhillips China (COPC) – should take full responsibility for the incident.
At its monthly press conference, the SOA said the oil leaks, which first took place at Platform B of the Penglai 19-3 oilfield on June 4, have polluted 840 square kilometers of oceanic waters and caused "a certain level of damage" to the environment.
According to SOA's investigation, the pressure increase of strata at Platform B's  – which was caused by a large amount of water injection into the layer – led to a rupture and thus the oil leak. A surge in the well, together with leaks on the side, caused a further rupture at Platform-C, said the SOA.
In an e-mailed statement on July 4, COPC said it had contained the oil leak and the clean-up work was close to completion. The E-mail also said there was no report on injuries or impact to wildlife, fishing or shipping yet.
Chinese authorities later confirmed the oil spills have been "effectively controlled."
Penglai 19-3 – China's largest offshore oil field discovered in 1999 – is under the operation of the Houston-based COPC, which has a joint development agreement with China's largest offshore oil producer China National Offshore Oil Corporation (CNOOC). Currently CNOOC owns a 51 percent-stake in the field.
Accusing COPC of being the responsible party for the incident, the SOA said it had urged the U.S. company on June 16 to release related information to the public promptly. However, it was not until July 1 when the field's major shareholder CNOOC admitted in an e-mail that it had observed an oil sheen on the sea surface near the oilfield "in early or mid June."
COPC may face a fine that could amount up to RMB200,000 according to China's Marine Environmental Protection Law. However, Li Xiaoming, director of Department of Oceanic Environmental Protection of the SOA, said the SOA may also ask for ecological compensation with an "astronomical amount" after completing necessary assessments on the actual damage caused.
Related Reading
Cleanup Efforts Underway after Oil Pipeline Explosion in Northeast China