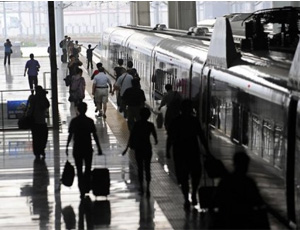 By Lena Xia
Jul. 14 – While China's high-speed rail line connecting Shanghai and Beijing has not even been opened two weeks, the much-hyped bullet train has already been shut down three times due to power failures, leaving thousands of passengers stranded for up to several hours.
Yesterday, the G114 train left Shanghai at 9:05 a.m. but made an unscheduled stop at Changzhou in Jiangsu Province an hour later. The train stopped again at Zhenjiang at 11:34 a.m. after it restarted and the passengers were told to board a backup train. The entire trip was two and a half hours behind schedule.
"It's too stuffy on the train! It does not seem like it would be fixed anytime soon. The power cord was malfunctioning at first and after the lights flashed a few times, the train suddenly stopped," said one passenger on the G114 according to the People's Daily. Each passenger was given a box of cookies and a bottle of water as compensation.
Power failures previously halted 19 trains on Sunday and 29 others on Tuesday, making Wednesday's incident the third in the past four days. The delays and malfunctions have sparked much public criticism on the disrupted service and many individuals now doubt how reliable the high-speed trains are.
According to the China CREC Railway Electrification Bureau Group, Sunday's incident was due to an equipment failure that was triggered by high winds and thunderstorms.
The 1,318-kilometer Beijing-Shanghai high-speed railway reduces the travel time between the two cities to less than five hours and it is designed to handle a maximum speed of 350 kilometers per hour, but apparently, some problems still need to be worked out.
"Just relying on high speed is not enough. We could have been prepared for inclement weather. In such incidents, how do you take care of passengers and bear the losses?" said China's government mouthpiece, the People's Daily. The newspaper then urged the individuals responsible for the Beijing-Shanghai line to get the system running properly as soon as possible.
Moreover, Zhang Quanling, an anchor with China Central Television commented on her Weibo (micro blog) that the railway authorities should cast a critical glance at their operations.
"Because when a new thing or a new policy is promoted, the (government) department tends to talk about the positive but avoid mentioning shortcomings," she said, "the public may not buy the words totally, but their expectations are high."
Many high-speed rail customers have been citing punctuality as one of the leading criteria driving their decision to select the high-speed train over domestic flights (as domestic airline passengers are almost always guaranteed delays), but now it seems that both are on equal footing in that regard and customer decisions may now rely even more heavily on total cost when making their decision.
Related Reading
Safety Concerns to Slow Down Beijing-Shanghai High-speed Rail