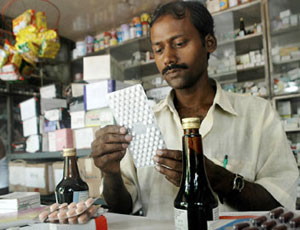 Jul. 15 – The health ministers of Brazil, Russia, India, China and South Africa (BRICS) joined a collective talk in Beijing for the first time between July 11 and 12 and agreed to strengthen collaboration for public health improvement and oppose trade barriers that restrict access to affordable drugs.
Indian Health Minister Ghulam Nabi Azad emphasized in his address that collaboration among the BRICS is significant for ensuring universal access to affordable, safe and effective medicines and vaccines. Believing the enforcement of intellectual property rights (IPRs) – which could be realized through the proposed Anti-Counterfeiting Task Force – will reduce competition in the generic drugs market and drive up medicine prices, Azad asked all BRICS members to oppose any moves by developed nations to tighten IPR rules.
Azad pointed out that all the BRICS countries are still faced with a number of public health challenges, such as inequitable access to medicines and health services, rising health-care costs, infectious diseases, and the increasing rate of non-communicable diseases. Michel Sidibe, executive director of Joint United Nations Program on HIV/AIDS, also noted that more than one-third of the HIV/AIDS population now live in BRICS nations.
Such challenges have underscored the significance of keeping affordable drugs available in the developing markets. In fact, in her speech, the World Health Organization's Director General Margret Chan hoped the BRICS can increase generic drug production, so that other manufacturers will allow the prices to drop as a result of more competition.
Currently, over 70 percent of all vaccines purchased by procurement agencies are provided by BRICS countries, according to the Times of India. India, the third largest pharmaceutical producer in the world in terms of volume, and the 13th largest in terms of value, has exported medicine worth US$10 billion to other parts of the world between 2009 and 2010. The country's large production of generic drugs – whose quality, safety and efficacy are well-ensured – has greatly contributed to reducing the cost of HIV/AIDS treatment as well as medication for other types of diseases.
During the talks with Chinese Health Minister Chen Zhu, Azad also hoped China will expedite the registration process for Indian pharmaceutical companies that look to enter the Chinese market. As a response, Chen said he has acknowledged the benefits as well as cost advantage of Indian drugs. It is hoped that increasing pharmaceutical trading ties among the BRICS can help reduce their reliance on expensive Western drugs.
Related Reading
Indian Court rules in favor of affordable drugs at expense of IP rights ?
Bulk pharmaceuticals from India and China – Improving Standards and the Problem With Middlemen