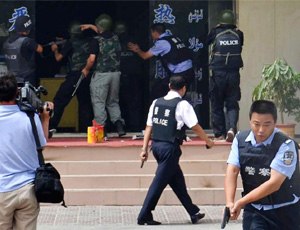 By Julia Gu
Jul. 21 – Eighteen people were killed in an assault on a police station in Hotan city in China's Xinjiang Uighur Autonomous Region on Monday, including two policemen, two hostages and 14 Muslim Uighur attackers, according to official accounts.
Hou Hanmin, head of the regional information office in Hotan, told reporters in a telephone interview that the attackers were armed with axes, knives, daggers, Molotov cocktails and explosive devices, and that they, "beat, smashed and set on fire" the police station, and hung "extremist religious slogans" on the top of the building.
"It was an organized, premeditated and severe violent terrorist attack on local politics-and-law departments," Hou added.
Monday's confrontation in the desert city Hotan, which neighbors Pakistan, was the most violent incident in Xinjiang since ethnic rioting in 2009 killed nearly 200 people and an attack in Kashgar left 16 police officers dead in 2008.
The Germany-based World Uighur Congress strongly disagrees with Chinese officials, claiming that policemen opened fire on unarmed Uighurs who went to protest against the police station's detaining young Uighur men with no reason. A spokesman from the Congress demanded that an open investigation be conducted.
Some Chinese terrorism experts have targeted Pakistan as the source of the violence.
"Located in the southern part of Xinjiang, Hotan is close to the border with Pakistan. Due to their affinity in religion and language, some Uighur residents there are at risk of being influenced by terrorist groups such as the East Turkistan Islamic Movement," Pan Zhiping, director of the Institute of Central Asia at the Xinjiang Academy of Social Sciences, told the state-run Global Times. He suspects that the indigenous Uighurs might be deluded by some extremists who often use religion as a tool against the government.
Officials say that the attack is not a collision between ethnic groups for there are victims who are local Uighurs. A series of interviews with local people conducted by state media reporters have confirmed this statement. Local Uighurs told reporters that the rioters are depriving them from their normal lives and it's not fair that all Uighurs are called "terrorists" just because of a group of separatists.
The unrest cast more concerns on the central government, which counts on Xinjiang for its oil, gas and coal resources to support the economy. The geographical location of Xinjiang, particularly in the southern reaches where Hotan is located, makes it rather difficult not to be affected by foreign anti-China organizations. South Xinjiang is described by the Chinese government as a training area for the East Turkistan Islamic Movement and to the west is Central Asia, a path for terrorists to easily escape to.
Establishing an effective counter-terrorism strategy is becoming more and more important for the Chinese government. In addition to Xinjiang, China has also witnessed riots in ethnic group regions such as Tibet in 2008 and the disturbances which erupted in Inner Mongolia earlier this summer.
There's a large Chinese military presence in all these restive regions and security has been upgraded with the border police remaining on high alert.
Related Reading
China Celebrates 60th Anniversary of Liberating Tibet