By Vivian Ni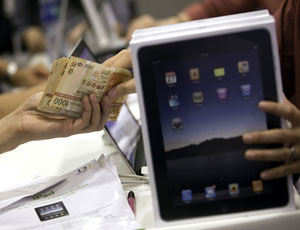 Jul. 22 – The U.S. company Apple Inc. reported its revenue in the Greater China region at US$3.8 billion between April and June. The astonishing sales record may lead Apple to surpass the region's personal computer (PC) giant Lenovo Group in revenue for the first time in at least a decade. Seeing Apple's massive success in the selling of its well-known products such as the iPhone and iPad, Lenovo has been playing catch up recently in the global smartphone and tablet markets as it tries to stay competitive against Apple.
Apple said its global profit for last quarter has hit US$7.3 billion, twice as high as the figure reported a year earlier. Sales figures for its iPhone also doubled to 20.34 million and the amount of iPad tablet computers sold even tripled to 9.25 million. Apple computer sales increased by 14 percent from a year earlier, totaling 3.95 million.
Sales across Mainland China, Hong Kong and Taiwan have contributed greatly to Apple's outstanding global performance. Entering the Chinese market only two years ago, the high-tech company's sales growth across the country – especially in metropolises like Beijing and Shanghai – has been dramatic. In 2009, Apple started successfully marketing its popular iPhones in China through a partnership with China Unicom, the country's second-largest mobile telecommunications operator. Despite the impressive expansion, Apple believes its current sales record in the region is just "scratching the surface" in the market. It is now reportedly holding negotiations with China's largest mobile operator China Mobile to expand and increase iPhone sales.
Jean-Louis Lafayeedney, an analyst at the Asian equity research company JI Asia, says Apple's growth may become a concern for Lenovo – the largest Chinese computer maker which acquired the former IBM PC Company Division in 2005 for approximately US$1.75 billion. Lenovo generated US$3 billion in sales from Mainland China last quarter, and a Bloomberg survey combining experts' views predicted the company's revenue from Hong Kong and Taiwan will not be high enough to enable Lenovo to outperform Apple in the Greater China region this time.
A recent E-mail from Lenovo, which declined to comment on Apple's performance and influence, emphasized that Lenovo's results in China have been strong.
"Lenovo is the No.1 PC company in China with more than 30 percent market share – more than three times our nearest competitor," Lenovo said in the E-mail.
However, Lenovo's recent marketing strategy adjustment may indicate that the PC magnate is beginning to worry that Apple may have started to erode its sales. After the launch of its LePad tablet computer in March in the Chinese market, Lenovo also announced this week that it will start to sell two new Android-based tablets in the United States in the coming month, and another Windows 7-based product during the fourth quarter.
Vincent Chen, one of the board directors at the Taiwan-based Yuanta Securities, warns it will be difficult for Lenovo to catch up with Apple in the tablet and smartphone market.
"Apple is such a strong brand that it's hard to see any one single company that could compete against them," said Chen.
Stephanie Mehta, executive editor of Fortune – the magazine which just released its annual ranking of the world's 500 largest companies – also complimented Apple's growth model earlier in July. Referring to Apple's climb in Fortune 500 rankings as her favorite story, Mehta pointed out Apple's growth is organic, while most other companies realize their growth through major mergers and acquisitions (M&As).
Boasting an almost preposterous level of cash flow, Apple has made no M&As this year and only small ones in the past. The biggest deal was the acquisition of the semiconductor company P.A. Semi Inc. in April 2008 for an estimated US$278 million.
The company also has zero debt so far, compared to its high-tech home competitors such as Microsoft, Google and Cisco, which all report less cash stockpile but are indebted at different levels.
Related Reading
Dell to Spend US$100 Billion in China over Next 10 Years
Dell Passes HP as India's Top PC Computer
Apple to Open Flagship Store in Shanghai
U.S Tech Companies Follow Google out of China
Dell Switching PC Exports from China to India