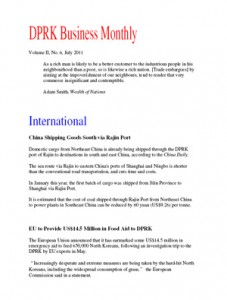 Jul. 22 – The latest issue of DPRK Business Monthly is now available for complimentary download. The regular magazine looks at current international, domestic, and peninsular affairs concerning North Korea while also offering commentary and tourism information on the country.
In international news, the European Union announced that it has earmarked some US$14.5 million in emergency aid to feed 650,000 North Koreans, following an investigation trip to the DPRK by EU experts in May.
"Increasingly desperate and extreme measures are being taken by the hard-hit North Koreans, including the widespread consumption of grass," the European Commission said in a statement.
Additionally, the World Food Program announced that Indian Ambassador to the DPRK His Excellency Pratap Singh traveled to the port of Nampo in mid-July to welcome the offloading of food supplies destined for hungry women and children via the United Nations World Food Program (WFP).
Earlier this year the government of India donated US$1 million to the WFP's operations in the DPRK, a contribution which was used to purchase 900 metric tons of soya beans and 373 tons of wheat.
"I am very happy to see the safe arrival of this food in a country where it is needed so urgently," Ambassador Singh said while in Nampo. "India is keen to ensure that our Asian neighbors receive the help they need in difficult times, and that is why we have stepped forward and offered this food assistance."
In other international news, France will open a cooperation bureau in North Korea, the Le Monde newspaper reported, but underscored that Paris was not launching diplomatic relations with the DPRK.
A senior French diplomat is currently in Pyongyang where he "will present to the North Koreans" the future French representative, the daily said, identifying him as Olivier Vaysset, a diplomat who has worked in Singapore.
In domestic news, severe flooding has worsened the current food shortage in the DPRK by inundating fields in many parts of the country. Heavy rain from July 12 to 15 left more than 20,000 ha (50,000 acres) of farmland destroyed or submerged across the country, according to the Korean Central News Agency (KCNA).
The downpour left several dykes, public buildings and roads destroyed, and the eastern city of Hamhung reported human casualties.
Also, construction of the 105-story (303 meter-high) Ryugyong Hotel in Pyongyang has been completed. Work on the hotel, named after an old epithet for the DPRK capital ("Willow Capital"), started in 1987, but was halted from 1992 to 2008 due to financial difficulties. Orascom Telecom, which provides mobile phone services in the DPRK, completed the task. The Ryugyong will house a business center and an international convention center, as well as guest rooms and offices.
To read further about these topics, and much more, please download the complimentary DPRK Business Monthly PDF on the Asia Briefing Bookstore.
DPRK Business Monthly is produced by North Korea expert Paul White.
Related Reading
The China Alternative – North Korea