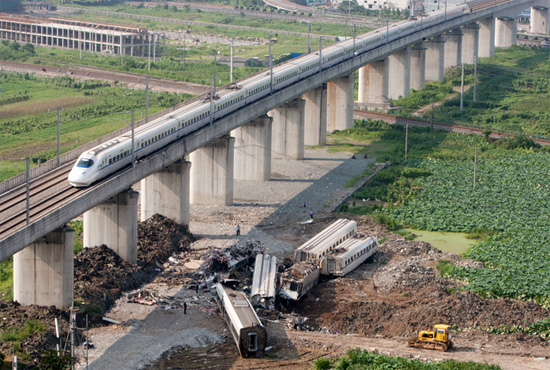 By Vivian Ni
Jul. 27 – The fatal train collision on July 23, which so far has killed at least 39 people, may also hurt China's rail suppliers, who have helped build the country's massive bullet train network and aspire to sell more rail equipment overseas, according to a Bloomberg report.
While China's train makers have already established a presence in the African market and are making attempts to sell trains to other parts of the world, the recent crash may weaken their export push and lower their sales pitches. Edwin Merner, president of Atlantis Investment Research Corp. in Tokyo, made the bold prediction that China's chances of selling high-speed trains are now "zero," saying "I don't think they can ever get confidence back."
The tragic train wreck has had a serious and immediate impact on the public's confidence in China's high-speed rail (HSR) technology hard – and not only the confidence of passengers, but also of investors. On Monday, the manufacturer of both crashed trains, the CSR Group, saw a 14 percent drop in its Hong Kong-traded stocks – the sharpest price drop in the past three years. In  Mainland China's A Share market, the total market value of 33 HSR-related stocks declined by RMB31.6 billion on the same day, bringing huge losses to institutional investors and fund managers who had allocated a significant portion of their capital to those stocks following the opening of the brand-new Beijing-Shanghai HSR line, which was supposed to underline China's outstanding achievements in its HSR development.
While Saturday's tragic accident may be the worst news people have heard recently regarding China's high speed trains, it is not the only bad news. The 1,318-kilometer long Beijing-Shanghai HSR line that was freshly opened on June 30 has already witnessed several major delays caused by storm-related electrical breakdowns and reported another case of power failure on Monday that delayed around 20 trains.
Although the Ministry of Railways' spokesperson Wang Yongping said at a recent press conference that he is still "confident" in China's high speed train technology, experts believe the accident, as well as the recent unstable performance of China's high speed trains, will increase foreign buyers' concern over safety. This will more than likely stop China from winning any upcoming train bids in the United States, for instance. According to the Bloomberg report, the CSR and its partner General Electric may go for a bid to supply trains for a planned high-speed railway line in California, possibly competing against Siemens, Alstom and Bombardier.
What is more, it is also hard to tell if CSR's existing orders will be impacted, says an investor relations official surnamed Zhang. CSR's annual report shows the company had RMB13 billion of overseas orders by the end of last year, including a high-speed train contract from Malaysia.
Most domestic investment consultants have become less optimistic on China's high speed rail industry after the accident. Shenyin & Wanguo Securities downgraded the CSR and another state-owned train builder China CNR Corp. to "neutral," and predicted that the HSR equipment suppliers will be negatively impacted.
Ping An Securities believes ticket sales of high speed trains will be influenced due to the trust crisis following the crash. More people may choose to travel by plane instead.
However, Ping An still maintained its grading of "strongly recommend" on China's rail industry, saying the forthcoming systematic reforms within the industry will still bring great opportunities for development in the future.
The Guangzhou-based private equity fund manager Jin Yin warned of the accident's global impact, indicating it may result in the world's reflection and revaluation of the rail industry. China's high-speed train exports will become less advantageous in the face of the competition from Japan and Germany, whose high speed rail technologies are obviously more mature, safe and reliable.
Related Reading
Citizens Question Rail Safety after Train Wreck in Wenzhou, China
China's Beijing-Shanghai High-speed Rail Breaks down, Again
China May Scale back Investment in Strategic Industries
Safety Concerns to Slow down Beijing-Shanghai High-speed Rail
High Speed Rail to Connect Nine South China Cities
Chinese Passenger Train Hit 486 kph, Breaks World Record
Shanghai to Hangzhou in 45 Minutes Courtesy of World's Fastest Train
Schwarzenegger Wants China to Invest in California's High-speed Rail Network