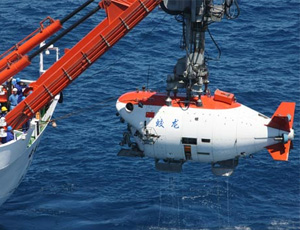 Aug. 3 – China's application to undertake deep-sea mineral exploration activities in the southwestern Indian Ocean has been approved by the International Sea-bed Authority (ISA), giving China exclusive rights to explore polymetallic sulphide ore and priority mining rights for future development programs.
"The [ISA] approved the application from the China Ocean Mineral Resources Research and Development Association (COMRA) to explore an area of the ridge for 15 years, covering about 10,000 square kilometers, on July 22," Wang Fei, deputy director general of China's State Oceanic Administration and president of COMRA, said on Tuesday during a press conference.
China's approval for conducting exploration activities in the Southwest Indian Ridge is the country's second such area with exclusive rights, following the 75,000 square kilometer polymetallic nodule ore deposit in the east Pacific Ocean, which was licensed in 2001, according to COMRA's Secretary General Jin Jiancai.
On August 1, China's manned deep-sea submersible, the Jiaolong, successfully completed its fifth dive in the polymetallic nodule ore area in the east Pacific Ocean, with a maximum diving depth of 5,188 meters.
"[The sea-bed exploration activities] will be conducive to improving scientific knowledge of deep sea resources and effectively protecting the sea-bed environment," Foreign Ministry Spokesman Ma Zhaoxu told reporters at a press conference on Tuesday. "According to the UN Convention on the Law of the Sea, international sea-bed areas and their resources are the commonly inherited property of mankind."
India, however, has become highly alarmed by this development, fearing that Beijing may use the exploration permit granted by the ISA as an excuse to operate their warships in the Indian Ocean – an area seen in India as clearly within its sphere of influence. Reports in India say that the country's Directorate of Naval Intelligence has given a warning note to related defense departments.
Furthermore, although China has claimed that Jiaolong will be for civilian purposes only, foreign military experts say such a craft could potentially be used to intercept or sever undersea communications cables, to retrieve foreign weaponry on the ocean floor, or to repair or rescue naval submarines.