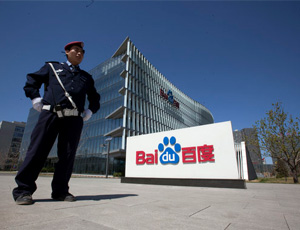 Aug. 18 – CCTV, China's state broadcaster, televised a program on Wednesday criticizing the search engine Baidu for allowing phony web sites to be promoted on its links.
According to CCTV's report, Baidu's "Phoenix Nest" advertising system is, in fact, a business model. While netizens search for information on Baidu, the results are not naturally listed due to the fact that Baidu's ranking is entirely decided by how much an advertiser is willing to pay. In addition, a large number of the ads on Baidu are not reliable.
"Baidu's Phoenix system is the same as a regular price ranking system. The only difference it made is that it's hidden deeper, harder to figure out, plus it's more expensive," A CCTV reporter said.
The program showed a series of cases that defrauded citizens, including moving companies, fake ticket services, and deceptive online shopping platforms.
"As suggested by some experts, if Baidu cannot discipline itself, authorities should consider stepping in. Just as we do not live for food, Baidu should not just exist for money," said an article published on the People's Daily web site, the mouthpiece of the Chinese Communist Party.
It's not the first time Baidu has faced such harsh public criticism from CCTV. In November 2008, CCTV accused Baidu of failing to clearly distinguish trustworthy advertisements from fraudulent ones. At the time, CEO Robin Li made a public apology and stated that "Baidu will learn from its mistakes. Requiring business licenses from advertisers before accepting their registration will be our priority."
In June 2010, CCTV uncovered that, according to an investigation conducted by the Wuhan (the provincial capital of Hubei Province) security bureau, Baidu again listed web sites that sell fake drugs in its promotion links.
CCTV reported that Baidu and other search engines made a fortune from advertising three major sites that sell counterfeit medicine. The culprits behind those resources had managed to scam over 3,000 people, CCTV said.
Baidu is the most prominent internet power in China with an 80 percent market share. The company's share took off after Google's retreat in 2010, and is now the uncontested leader, even a "monopoly," in the search engine market.
The central government has avoided taking any measures against Baidu because the company consistently remains in line with the communist party's censorship regulations.
Netizens suggest that Baidu should show more of a real effort in fighting internet fraud, and it's time for Baidu to be more responsible. However, CCTV's sudden expose provoked doubts from netizens that Baidu has always been favored by the government despite its private business status.
Interestingly enough, netizens tended to question CCTV's motive every time it made similar reports on Baidu. Some speculate that CCTV, as a state-owned broadcaster, always makes a fortune with its advertising business. Now Baidu has replaced CCTV with the rapid rise of internet media and, as a result, CCTV is facing the loss of its "Media King" status as well as some of its advertisers.
Moreover, a month before CCTV launched its own search engine in January 2010, it made another report, blaming search engines including Baidu for providing pornographic web site links. On August 15, some Sina microbloggers said that CCTV has set its own search engine beta version (search.cctv.com) without any public announcement.
Behind CCTV's criticism of Baidu lies the possibility that CCTV is attempting to take a piece of China's booming online sector, which is now dominated by private enterprises.