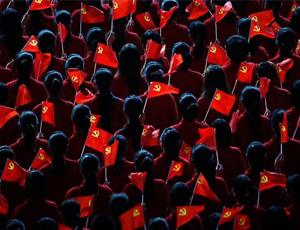 By Kaitlin Shung
Aug. 19 – It has been a tumultuous year so far for a number of the world's political systems, as popular uprisings have challenged contemporary leaders and redefined the future political direction of countries throughout the Middle East and northern Africa. Even the recent political tussle in Washington over the raising of the U.S. debt ceiling highlighted a potentially debilitating flaw in the country's political process.
In spite of conflict virtually in its backyard, China has managed to prevent similar sentiments from taking shape within its borders. That being said, as the world starts to ponder what Syria or Egypt's leadership will look like in the future, what about China?
I decided to pose this question, and more, to somebody a little unconventional – a young female member of the Chinese Communist Party (CCP).
Plenty has been said about China's economic rise, but the country's communist-framework has undoubtedly helped to press the fast forward button on a process that has taken neighboring countries like India much longer to get a hold of. The CCP is a complex organization and far from the days of Chairman Mao's iconic suits, the international community now largely interacts with educated and well-spoken middle-aged Chinese men in Western suits.
The Huffington Post reported in June that the Chinese Communist Party had become the world's largest political party, with an estimated membership of more than 80 million in 2010. One of the most intriguing aspects of this massive party is how selective membership is – the same article by the Huffington Post reported that in 2010, the Party received 21 million applicants and accepted only 14 percent, or roughly 2.9 million.
Joining the party is a rigorous and complicated process, doting on the brightest and best. These individuals are undoubtedly among China's most promising, but why did they decide to join the Party and where do they plan to lead it?
I was fortunate to speak to a young woman who has been a member of the CCP since 2009. Cecilia joined the CCP in her third year of university and in the short time I spoke to her, I was not surprised to see that she was a bright and successful young professional.
The CCP announced that 38 percent of its members were women and 25 percent were younger than 35, a category to which Cecilia belongs. When I asked her why she had decided to join the CCP, I received an expectedly diplomatic response "People should have faith and belief in something. Joining the CCP is a good choice here in China and I want to know more about the Party, the best way to do that is to be one of them."
Despite the slim acceptance margins, joining the Party seems to be largely an individualistic task and not necessarily one motivated by pride or competition, particularly for young members. According to Cecilia, "…It is not about competitiveness…I think it is the progress you are making and the fact you are getting closer to your beliefs that make you happy."
The CCP often comes under fire for corruption and nepotism, although the highest echelons of leadership have continued to put forth a strong stance against both. Cecilia herself hoped the Party in the future would do a "better job in anti-corruption and public credibility."
However, it remains to be seen if a truly transparent CCP is feasible or probable. In an interview with The Economist last year, Richard McGregor suggested that corruption in fact supported the CCP through acting as a "transaction tax that distributes ill-gotten gains among the ruling class…It becomes the glue that keeps the system together." If anti-corruption is truly an ambition of the Party's future generation, it may be that the CCP will look very different from how it does today.
Cecilia also shared her insight as to what she saw in the Party's future, saying she imagined that the Party's leaders would be "younger and more diverse." Certainly, this would be an interesting evolution in the Party's makeup. One of the CCP's first mandates was raising the status of women, in this traditionally patriarchal society, to a place where women could "hold up half the sky."
A recent article from Bloomberg News suggested that the CCP's efforts at gender equality have not really taken shape, even today. Female representation in the highest levels of the CCP is sparse – for example, since 1949 there have only been two female Chinese governors of any province or municipality.
It is clear that the CCP has its work cut out for itself, in economic, political and social terms both in the short and long run. I was less struck by what Cecilia actually said and more about who she represents – particularly as urbanization continues, young women like Cecilia are worth watching to see how their representation in the CCP changes and what impact they will have on the country as a whole.
Related Reading
The Evolution of China's Communist Party, 90 Years in the Making