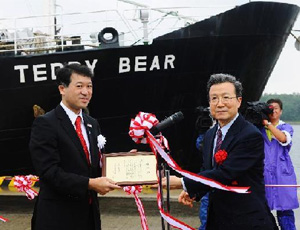 Aug. 23 – The launching ceremony for a new shipping and trucking route linking northeast China's Hunchun City in Jilin Province and Japan's Niigata via the Russian port of Zarubino was held at Niigata harbor on August 18.
This is the first international freight line in northeast China that crosses over the Sea of Japan and reaches Japan's west coast, marking an important step in international cooperation between northeast China, the Sea of Japan-basin economic sphere and the Russia's Far East region, Chinese state media reported.
On August 17, the 1,531-ton Panamanian-registered freighter "Teddy Bear" successfully made its first voyage to Niigata east port from Russia's Zarubino with an aid package from China's Jilin Province bound for Japan.
Chinese ambassador to Japan Cheng Yonghua, Niigata Governor Hirohiko Izumida, and the Consul Generals of China and Russia – along with a collection of local government leaders – were all in Niigata last week to attend the launching ceremony.
The new Hunchun-Zarubino-Niigata line considerably reduces the transportation time from northeast China to Japan, Cheng said at the inauguration ceremony.
He added that the new route is expected to play a positive role in speeding up resource and cargo transportation – as well as improving the mobility of personnel – in the Sea of Japan-basin economic sphere.
The new line is an important path that links Japan with the Asian continent. With its significant cost advantage, it could help Japan's revival after the earthquake and could also help the development of northeast China and Russia's Far East, Izumida said.
The new 900-kilometer route links Niigata with Zarubino by ship and Zarubino with Hunchun by truck. Cargo transportation on the route now takes only four days – compared to nine days before.
Reports indicate that the new route will be operated under government guidance and joint development principles.
Related Reading
Russia Briefing News
Our sister site, offering regular news relating to the Russian economy, the market in Russia, as well as foreign direct investment and Russian law and tax.
UNDP Northeast Asia Regional Guide
Free download of regional guide to North Korea, Northeast China, Northeast Russia, Mongolia and South Korea
Will Kim's Russia Visit Help Develop China's Northeast?
Kim Jong-il Visits Russian Far East
Arctic Sea Routes Opening Up for China
Russia's Vladivostok to Boom as China Cuts Mineral Exports