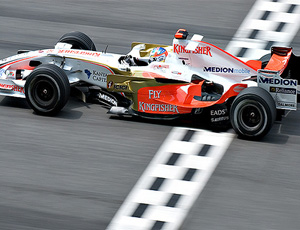 Sept. 16 – The inaugural Indian Formula One Grand Prix has been ordered to pay customs duties on all imported consumables entering India for use during the race. The F1 race, the first to be held in India, is to start in six week's time and teams are getting busy with essentials such as fuel and marketing equipment to participate.
The organizers, Jaypee Sports International, are now scrambling to make arrangements for bonded warehousing, at which all items will be valued, and then released into India. Duty will be levied at the appropriate rate for all items not returned to the bonded zone after the race.
These items include parts for the cars, such as oil filters, engine plugs, electronic wiring, engine oil, racing fuel, diesel, safety and back up vehicles, support vehicles, and tires, in addition to racing drivers gear, including suits and helmets, all pit crew gear, while all imported merchandise such as t-shirts, caps, pens, and other paraphernalia will also be subject.
The dutiable value of the equipment and materials is estimated to be about US$40 million, of which the customs duty will amount to US$1.6 million. The last minute ruling has come as the F1 race has not been cleared as "national important status" – which applied to last year's Commonwealth Games and the International Cricket World Cup. The organizers stated that meeting the arrangements with India customs "would not be a problem" although individual F1 team members may need to arrive in India a few days earlier than initially expected to deal with the paperwork. The F1 Grand Prix is to be held in Delhi on October 30.