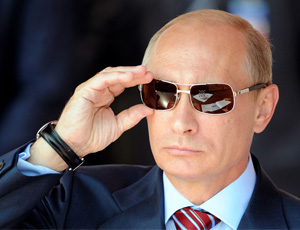 Sept. 23 – Russian Prime Minister Vladimir Putin has been nominated for the Confucius Peace Prize – China's version of the Nobel Peace Prize – alongside other global figures such as German Chancellor Angela Merkel, President of the Republic of South Africa Jacob Zuma, and the creator of hybrid rice Yuan Longping.
Microsoft's Bill Gates and former UN Secretary General Kofi Annan are also being considered for the prize, but analysts say that Putin's main competition for the prize comes from the Panchen Lama Norbu Gyaltsen – the second-highest lama in Tibetan Buddhism as well as the "reincarnation" of the Dalai Lama hand-picked and approved by the Chinese government.
However, Tibetans in exile and some of the Dalai Lama's supporters in China believe that the real Panchen Lama, who was appointed by the Dalai Lama as his reincarnation in 1995, has been under house arrest since childhood and his whereabouts are regarded as top secret in China.
"We picked the Panchen Lama for he helped the government promote harmony in China," explained the Chairman of the Confucius Peace Prize Committee Liu Haofeng.
The Confucius Peace Prize, named after the Chinese philosopher of the same name, was established hastily in 2010 just days before the imprisoned Chinese civil rights advocate Liu Xiaobo was awarded the Nobel Peace Prize. The award has yet to gain any real recognition, even within China where it is seen by some as just another knock-off.
China's Ministry of Culture selected a group of professors from China's top universities as well as other reputable scholars to decide the winner of the peace prize in order to "promote human civilization and world peace from an Eastern perspective."
According to Liu Haofeng, the winner will be announced on December 9 – once again a day before the Nobel Peace Prize – and the selected individual will be awarded RMB100,000 (US$15,700).
The first winner of the inaugural Confucius Peace Prize last year was Lien Chan, the chairman of Taiwan's Nationalist Party (Kuomintang) for, "building a bridge of peace between the mainland and Taiwan."
Lien refused to receive the award.
Last year's other four nominees were Mahmoud Abbas, Nelson Mandela, Bill Gates, Qiao Damo (a Chinese poet), and the Communist Party's Panchen Lama.