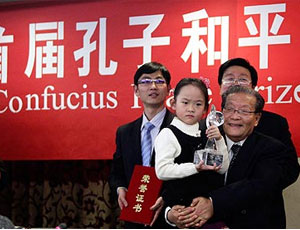 Sept. 30 – The Chinese government has withdrawn support for the Confucius Peace Prize, which was scheduled to announce its second annual winner next week. Beijing announced yesterday that the group overseeing the award had been disbanded.
The Confucius peace prize was launched last December in an apparent retort to the Nobel committee awarding the Nobel Peace Prize to jailed Chinese dissident Liu Xiaobao. The Association of Chinese Local Art awarded last year's winner RMB100,000 at an event scheduled one day before the Nobel ceremony in Oslo. However, the first winner, former Taiwanese vice-president Lien Chan, failed to turn up to the chaotic inaugural ceremony. His office appeared to be unaware that the event was even taking place and he subsequently decided against accepting the prize.
At the televised awards ceremony in the absence of the winner, a six-year-old girl was ceremoniously given a huge bundle of RMB100 banknotes instead. This immediately raised the ire of many Chinese academics who stated that such a crass display of cash demeaned the values of Confucius and instead only served to enhance the greedy nature of Chinese materialism.
This year's nominees included Nelson Mandela, Bill Gates, Jimmy Carter, Vladimir Putin and the Beijing-appointed Panchen Lama. This has now been dropped, however it is unclear whether a new award will replace the defunct Confucius prize. No explanation has been given towards the decision, however all along the awarding of the Confucius Peace Prize has been handled poorly and with obvious political and government involvement, damaging the entire credibility and transparency behind the prize.
Beijing must be wishing it had never gotten involved in the scheme, which has become a farcical embarrassment for the government.
Related Reading
China's Panchen Lama and Russia's Putin Frontrunners for China Confucius Peace Prize