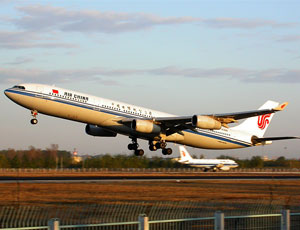 Sept. 30 – China and Russia announced that they would continue their opposition against including civil aviation into the European Union's (EU's) Emissions Trading Scheme (ETS) which demands global airlines buy carbon emission permits, according to a joint statement made by China's Civil Aviation Administration and Russia's Transport Ministry on Tuesday.
"We oppose any unilateral and coercive decisions that were made without any agreements among the countries concerned… Including international aviation in the EU's ETS violates the principles of the Chicago Convention and trespasses the sovereignty of other states. And it may bring about extremely negative consequences for the international aviation industry," read the statement.
The International Convention on Civil Aviation (the Chicago Convention) was signed on December 7, 1944 by 52 countries in Chicago, Illinois, and became effective on April 4, 1947. It's a document that sets out the basic principles for international aviation and regulates international air traffic.
It's noted that any states that have the same concern on this issue may accede to the statement of China and Russia.
In early 2009, the EU decided that it would include international civil aviation into its ETS from 2012. All airlines flying in and out of the EU will have to cut their emissions to meet the required emission level and shall monitor as well as report the emissions from January 1, 2012.
The airlines of the Unites States, Canada, the United Arab Emirates and India have criticized the new scheme as well.
On Wednesday, China called for talks with the EU concerning the new scheme.
"China appreciates the EU's efforts in climate change, but opposes the EU's forced implementation of unilateral legislation. China has expressed its position many times and our concerns to the EU," Hong Lei, spokesman for China's Foreign Ministry said at a press meeting.
China seemed to be the most active opponent of the scheme. The CAAC authorities claimed that if the new rule goes into effect, it will cost Chinese airlines some RMB800 million (US$123 million) in the first year alone, and by 2020 this number would triple.
"The two sides will continue to work together on this matter and will urge the EU to handle the emission issue properly," said the joint statement.