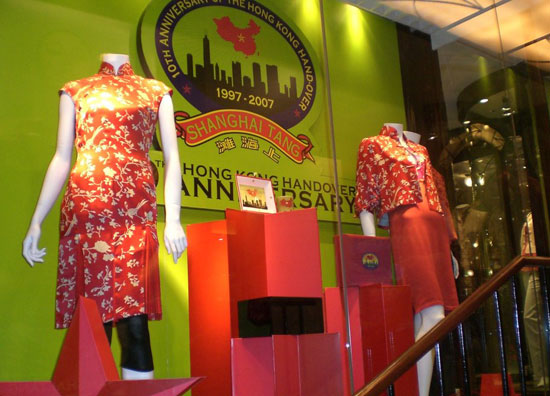 Oct. 8 – Shanghai Tang, the only globally recognized Chinese luxury brand, is having to vacate its flagship Pedder Street store in Hong Kong on October 23. Started by entrepreneur David Tang in 1994, Shanghai Tang is now part of the Richemont luxury goods empire, and has long been an outlet for traditional and contemporary Chinese fashion.
However, its new premises, which will also be in Central, are not ready until March next year. In the interim, a period which Shanghai Tang are labeling "A New Journey as a Nomad of Central," the store will continue to operate – firstly in a series of Mongolian gers, which are being imported from Mongolia and will be installed on the roof of Central Pier 1 from November 4 to December 31. The gers will be accompanied by cocktail parties and other harbor view events, along with displays of Mongolian nomadic culture.
The Mongolian ger is a tent style structure used by nomads across Central Asia, but especially in Mongolia. Made from lashing 108 wooden struts to an outer, weaved lattice wall, they are covered in felt and canvas, usually have a central oven and can withstand temperatures of -40 degrees. No nails or screws are used in their construction; they are slotted and lashed together, supported by two central poles. The word "ger" is the correct term in Mongolian language, although "yurt" is often used. This actually refers to the Kazakh version of the same structure.
There will also be a short-lived "Shanghai Tang Loft" sited on the sixth floor of the Pedder Building, close to the old store, from October 23 to February 20. However it is the Mongolian gers that are set to be the centerpiece attraction. Richemont also own Cartier, Van Cleef & Arpels, Lancel, Montblanc, Piaget, Jaeger Le-Coultre, Chloe, Baume & Mercier and Alfred Dunhill among other brands.
Related Reading

Mongolia Expat
Photo galleries, magazine downloads and articles about exploring Mongolia