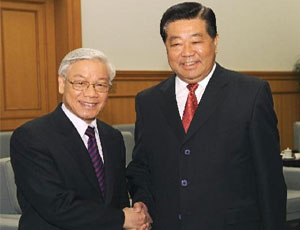 Oct. 13 – China and Vietnam have signed a six-point agreement aimed at providing the framework for resolution of conflict within the South China Sea. The document, agreed upon yesterday by Chinese Vice-Foreign Minister Zhang Zhijun and Vietnamese Vice Foreign Minister Ho Xuan Son, is based upon a previous 1993 agreement for resolving bilateral and border disputes.
Under the agreement, the two parties agreed to establish a hotline to deal with potential maritime clashes and to hold specific border talks twice a year, with additional meetings taking place when necessary.
In what may be a softening of China's position, the agreement also stated that both countries should consult with other nations if they were also involved in any disputes. This lets the door in for India to be involved as it has recently signed exploration agreements with Vietnam for drilling in the South China Sea. It seems to also permit the possibility of multilateral talks to take place, something Beijing has previously resisted.
Related Reading
India, Vietnam Set to Go Ahead with South China Sea JV
China's Territorial Disputes in the South China Sea and East China Sea
Beijing Demands India and Vietnam Stop Oil Joint Venture in South China Sea
India and Singapore Conduct Joint Naval Exercise in South China Sea
Territorial Disputes Escalate in the South China Sea
China, Vietnam Trade Blame in Recent South China Sea Incident