A shameful, amoral society has developed to China's detriment
Op-Ed Commentary: Chris Devonshire-Ellis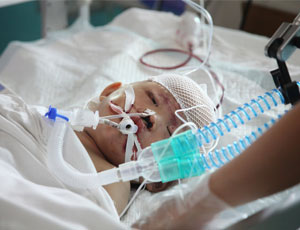 Oct. 18 – Anyone who has viewed the appalling footage of the two-year-old toddler Yue Yue being run over – and then ignored by 18 successive people as she lay seriously wounded in a backstreet in Foshan will also recognize the major failing of the Chinese Communist Party in protecting China's heritage – the complete abolition of morality.
The girl, who had wandered out into a small back street to look for her brother, was hit by a light truck. Video footage clearly shows driver negligence in striking her; she was easily visible in the middle of a narrow lane. It's what happened next that has appalled. Knowing he has run her over, the driver pauses for several seconds, then decides to drive on. In doing so, he runs her over again with his rear wheels, and drives off. The lane is busy and over a dozen individuals walk right past her unconscious body, prostrate on the ground in the middle of the lane, without stopping to check. A minute later, she is run over by a truck. All this occurs in a well-lit lane with a hardware market lined with small shops. Finally, a garbage collector spots her, lifts her up, and carries her to the relative safety of the roadside. Her mother then appears and the little girl is taken to the hospital. She seemed in a really bad way – and reports conflict over whether she has already died or remains in a deep coma with permanent brain damage.
This is modern China, the world's second largest economy, and in a prosperous city. GDP in Foshan grew by 12 percent in 2010, and it has a total income of RMB565 billion. Although it may be relatively unheard of in the West, Foshan is the 11th richest city in China.
What is shocking is not the accident per se, regrettably such incidents are part of life and young children are always vulnerable. What really hits home and is shocking is the fact the driver drove away – causing the child further trauma by running her over with his rear wheels – he must have felt the back of the lorry go over her pathetic, tiny bump – and the attitude of those individuals walking and driving past. It was obvious that a small child lay dying in the street, yet 18 people ignored her until the garbage collector picked her up.
In this aspect, a dangerous lack of moral guidance in China towards its own population is revealed. It is not the first time; the poisoning of 300,000 infants in the melamine milk scandal – a situation born purely out of greed and involving a large state-owned enterprise – dictates that the Chinese Communist Party has failed in its attempts to provide moral guidance to the Chinese people. The list of occasions whereby the Chinese people have responded with callousness to someone in distress is growing. It is however not an issue that concerns race. It is an issue that concerns moral guidance and the serious lack of ethics in contemporary China. That is a social matter and is the responsibility of the State to oversee. The Communist Party, quite simply, has shown total ideological neglect to this aspect of the "China Dream."
In assuming power, the Chinese Communist Party also assumed a paternalistic approach to governing China, and has much to be proud of in uniting the Chinese people and creating a modern society. Yet, just beneath the surface, problems remain to which Yue Yue is sadly symptomatic. In insisting that the CCP itself is the sole moral arbitrator of China, and in doing so suppressing religious groups, the CCP has effectively suppressed the very soul of its people – the ability to understand the difference between right and wrong. The Chinese have not become immoral. They have metamorphasized into something even worse – an amoral society, being one that cannot tell the difference between right and wrong. It is an extremely dangerous force to unleash among a population of 1.3 billion.
The Chinese government's own guidelines to its citizens have not helped. In fact they have made matters worse. In the guidelines on how to help elderly people who have fallen down, issued by the Ministry of Health in September, the public are advised: "Don't rush to lend a hand to the elderly after seeing them fall over. It should be handled by different measures in different situations."
The guidelines suggest evaluating the person's physical condition, determining the cause of the accident, and making a plan for rescue workers before lending a hand. In reality, this is an officially sanctioned delay in providing any first aid or assistance to the injured. The ministry said the guidelines have nothing to do with morality and ethics, but explain how to deliver assistance in a scientifically proper way. What has happened is that the population, not wishing to get involved, are doubly traumatized in terms of their morality because should they break this code, they can be considered liable for any damage to the individual. It has occurred – a Nanjing court recently awarded damages to an elderly person after a passerby stopped to help her. Clearly, the official guidelines are absurd rather than scientific, and as the Ministry itself stated "Have nothing to do with morality." China's dream of a scientifically-based society is being developed at the express removal of ethics.
Turning towards the normal method of instructing citizens in moral guideline – religion – China may well point to the different religions that can practice in China, the Muslim regions of Xinjiang and Ningxia, the Buddhist stronghold of Tibet, the Jews of Kaifeng, and the State-sanctioned version of the Catholic Church as proof of their all-embracing approach. This would be fine if the State provided moral education and didn't interfere with the religious aspect. But it doesn't. It actively discourages religious freedom, and unlike nearly all modern societies, has no religious education within its schools. In the absence of any religious subject matter in education for the past 60 years, coupled with suppressing individuals from attending religious services as an option, China has developed into a desolate, amoral wasteland. The result is the ignoring of a seriously wounded two-year-old girl in a busy lane. Quite simply, no one cared enough to get involved. They all – cleaning woman aside – put their own welfare first.
Religions of course are not immune to their own downsides. Conflicts between the three Abrahamic faiths run deep. Other philosophies such as Buddhism have also had their internal issues. But all, at heart, have been responsible within their own communities for educating their followers in the differences between right and wrong, good and bad, love and hate. China has stripped that away and has replaced it with a pithy collection of quasi-jingoistic jargonology derived from Lenin. China, let us not forget, is officially atheistic. I'd prefer not to be, watching the appalling sight of Yue Yue being treated as little more than dead garbage to be left at the side of the road. It's inhuman. Pigs do not have morals. Humans should have, and without these we descend back to the lower species of mammals – unfeeling, uncaring, and devoid of compassion. Even elephants, monkeys and dogs have been known to mourn their dead.
Concerning China's treatment of religion, and of those who under long-held religious structures have for centuries provided moral guidance, we learn of Tibetan Monks continuing to immolate themselves, of the last synagogue in Kaifeng being turned into a supermarket, mosques being shuttered in Xinjiang, and Catholic priests detained against their will because they support the Vatican. It is obscene, and the results of the suppression of moral teachings are clear in contemporary China. I warn that the situation can only continue to deteriorate unless China's amorality is corrected.
Hopefully, the outrage will spark a religious and moral revival in China, and a desire to know God. Because without Him, we are little better than animals – as the callous treatment of a two-year-old girl has painfully demonstrated. The Chinese Communist Party need a radical rethink of their policies towards moral guidance within China, and the long-established role that globally recognized religions have to play. China's suppression of such has gone way too far, and at the probable cost of a young girl's life, seedily snuffed out in a Foshan backstreet where only the lowly, a garbage collector with the least to lose, had sufficient grace and compassion to care.
Chris Devonshire-Ellis is the principal of Dezan Shira & Associates. He received a religious education prior to establishing Dezan Shira & Associates in 1992.