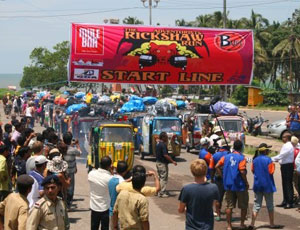 Oct. 19 – The Rickshaw Run, an annual ASEAN event, has just begun, with this year's route beginning in Jakarta and ending in Bangkok. Some 66 people from 15 countries are taking part in this charity event that also aims to show how Asia is connected. The 3,000 kilometer race began yesterday and is scheduled to end on October 30.
Having left the Indonesian capital of Jakarta, the competitors will cross the Malacca Strait to Penang in Malaysia, zoom across to Satun in Thailand, and race on to Bangkok. Tuk-tuks are the ubiquitous form of transport across Southeast Asia, powered by a half-horsepower engine. They are typically used for quick trips across busy cities rather than international marathon races.
Tuk-tuks, or "auto rickshaws" to give them their official name, are an Indian-designed vehicle based loosely upon the 1956 Piaggio Ape 6, which itself was based upon a Vespa. They have a top speed of about 50 kilometers per hour, and can cruise at about 35 kilometers per hour. They are now manufactured by several different companies across Asia, but all follow the same standard design. Over the past three years, many have been converted to run on liquefied natural gas rather than petrol.
Teams are competing from the United Kingdom, India, Indonesia, the United States, Germany, Canada, New Zealand, Eire, Holland, Switzerland, Sweden, Australia, Norway, South Africa and Spain. The event's website has real time updates, satellite maps and blog updates from competitors. 2point6billion.com's favorite team in the 2011 Rickshaw Run is "You Gotta Fight for Your Right Chapati."
2poin6billion.com has made a donation of US$500 to the Rickshaw Run. Other donations can be made here.