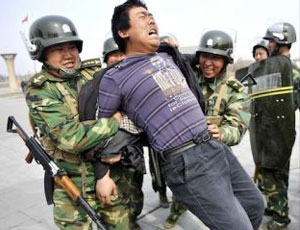 Oct. 25 – An anti-terrorism draft bill was submitted to the National People's Congress, China's top legislature, for discussion on Monday. The draft bill defines terrorist activities as behaviors that have caused or are intended to cause casualties, major economic loss, damages to public facilities, social disorder, or endanger society through violent, destructive, threatening or other measures by provoking social panic in order to coerce the government.
"China's current legislation lacks specific regulations defining terrorism, terrorist organizations, and individual terrorists, affecting the fight against terrorism, control over terrorist assets, and international anti-terrorism cooperation," Vice Minister of Public Security Yang Huanning said as he was reporting the bill.
Incitement, providing of financial support, or assisting with other means towards such activities are also defined as terrorism, the draft bill describes. Terrorist organizations are considered those groups aimed at conducting terrorist acts, while terrorists are individuals who organize, plot and conduct terrorist acts as well as those who are members of terrorist groups.
In addition, the draft bill provides that the funds and assets of terrorist organizations and individual terrorists will be frozen after their names are published by the public security authorities.
The proposed regulations may have been brought about in response to the on-going Arab Spring revolutions in the Middle East rather than only aiming at the ethnic tensions in Xinjiang and Tibet in northwest China. The new regulations are general in nature and therefore subject to wide interpretation.
No information has been given if the draft will include terrorist groups or individual terrorists banned by the United Nations and being targeted by foreign countries.
Related Reading
Will China Inherit Afghanistan's War?
Pakistan Assures China Over Waziristan Insurgents
Islamic Group Claims Responsibility for Xinjiang Attacks in China
Weekend Violence in China's Xinjiang Leaves 19 Dead
Attack in Xinjiang Leaves 18 Dead as China Again Struggles with Ethnic Unrest