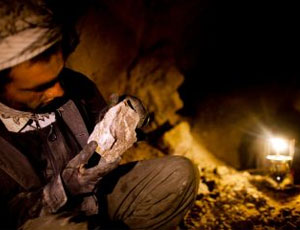 Oct. 28 – Indian and Chinese companies have emerged as the top choices in the bidding for iron ore and oil deposits in Afghanistan, according to the country's Minister of Mines Wahidullah Shahrani.
"Two Indian bidders have emerged as the most potential companies for Hajigak," Shahrani said, adding that the winner of the project will be announced in early November.
Located in the mountainous Bamyan Province some 130 kilometers west of Afghanistan's capital city Kabul, the Hajigak iron ore deposit boasts an estimated 1.8 billion tons of iron ore, with a concentration of approximately 62 percent Fe. In addition, coal resources exist near the iron ore which is suitable for blast furnaces and smelting.
Sources say accessing and extracting minerals from the rich mines in the war-torn country requires an enormous amount of time, effort, and capital. Geographically, Hajigak is a region featuring a range of treeless mountain ridges with only a handful of nomads and farmers. In order to develop the mines, investors have to build infrastructure such as roads and railways to deal with transportation.
Separately, the result of the bidding for oil and gas exploration in northern Afghanistan's Amu Darya will be decided in early December and a Chinese company seems to be the most likely candidate to win the bidding, Shahrani said.
Afghanistan is estimated to have immense quantities of natural resources, including extensive deposits of gold, copper, iron ore, coal, rare earth minerals, gemstones and hydrocarbons, as well as vast oil and gas reserves. Despite the rich natural resources, Western countries have hesitated to invest in the nation due to safety concerns and financial transparency issues. While Western governments are contemplating the risks they are going to have to face in the country, China and India have taken the opportunity to supply their huge domestic markets.
Investments into Afghanistan from Indian and Chinese companies have provoked criticism from Western bidders, who believe companies from the two emerging Asian economies are usually backed by their governments, casting doubt on the fairness of the bidding.
No comment from any Indian or Chinese bidders has been made.
Related Reading
India, China Face Risks and Rewards in Mining Afghanistan