Op-ed Commentary: Chris Devonshire-Ellis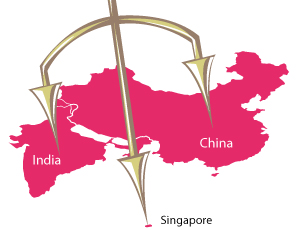 Oct. 31 – As Western businesses face sluggish economies, Eurozone debt, and an American election next year, beleaguered corporates need to find fast access to markets that can provide good returns for investors. Clearly, as the domestic United States recovers, and Europe continues to argue about its currency and democratic structure, the demand to develop sustainable growth in alternative arenas becomes more pressing. Wall Street remains a slavish animal, and those increasing yields need now to be gained from non-traditional markets. It's been the case for some time now that many U.S. corporations, without their China subsidiaries contributing to bottom lines, would have otherwise been in serious trouble. However, China isn't the only answer, although for many it may seem the most obvious.
Meanwhile, the impact China has had on emerging Asia is just as great as it has had on Western economies. What were languid, lazy backwaters 20 years ago are and have been transformed into hives of activity with a strong work ethic underpinned by a sense of "Asian values" – that if you work hard, and look after your family, you can make it. The only difference with the West being as perceived as losing its social veneer, Asian family values have now fertilized the workforce.
Rather like the European Union, but on a smaller scale, much of Asia has integrated. ASEAN comprising 10 nations, and some 593 million people, has possibly shown the way towards mutual prosperity in a manner that Europe has not. While the European Union has centralized, imposed increasing amounts of "democracy" on once independent countries, and bid all (save the stoic British) to embrace the Euro, ASEAN is decentralized save a secretariat, does not have democracy as a requirement to join, has no unified currency, yet has done away with trade barriers with countries previously at war. EU lite it may be, but ASEAN right now represents the future rather more than Europe does. Singapore, as ASEAN's defacto financial capital, wields far more trading financial clout than Brussels.
Indeed, being at the center of Asian trade and commerce is a description that fits ASEAN well. As a body, it balances the two giants of China and India, both of which actively seek and encourage participation. Being at the center of ASEAN means being in the center of Asia, with China immediately to the northeast and India immediately to the west. While ASEAN's population is over half a billion, China and India both chip in with about 1.3 billion each; a total market of over 3 billion people – half of the world's population. True, not all have wealth, and a lot of poverty alleviation needs to be carried out. But of those, some 650 million can be considered middle class to local standards, and of them, some 165 million have middle class income comparable to that of Western Europe or the United States.
The approach then, for MNCs when it comes to Asia, is a three-pronged strategy. This is a typical example on how it would work:
Asian holding company – Singapore
As Hong Kong is for China, Singapore is for ASEAN – a low tax jurisdiction, with no income tax due on profits realized from trade conducted externally from Singapore. A first class global financial center, Singapore is a primary destination – not least because as a member of ASEAN in its own right, domiciliation there means participating in the free trade agreements with other ASEAN member nations plus China and India. And if your business is in any of these other nations – no income tax is payable. The Singapore dollar is also freely tradable and profits are easily repatriable elsewhere.
This management holding company would then own the following:
Manufacturing and sales – China
Either export manufacturing, or increasingly, to sell to China's large domestic market of 250 million middle class consumers.
Manufacturing and sales – India
Almost the same deal as China, and with the same number of consumers, but with lower labor costs offset to some degree by less well-developed infrastructure.
There are minor differences to this of course, in some cases a Hong Kong company may replace the Singapore entity, but the advantages to this are really now limited to the Closer Economic Partnership Agreements (CEPA) Hong Kong has with China, but these are not applicable to newly-established businesses. Again, manufacturing could be elsewhere in ASEAN – Vietnam or Jakarta for example – however the Singapore dollar has more clout as a regional currency and financial hub.
Only some 10 years ago, it was to be China's century. It's increasingly apparent that it is Asia's, and business strategies need to be developed to cater for what is, after all, a far larger, diverse and dynamic market than even China can conjure up.
Chris Devonshire-Ellis is the principal and founding partner of Dezan Shira & Associates. The firm specializes in providing foreign direct investment legal establishment, tax, cross border structuring and accounting advice across Asia, where it maintains 20 offices, including in China, India and ASEAN. Please email the practice at [email protected] or visit the website at www.dezshira.com.
Related Reading

Developing Your Business from China to India and Vietnam
Our complimentary 25-page PDF report detailing cost analysis, labor and factory overheads comparisons between Dongguan, Chennai and Ho Chi Minh City, as well as an overview of other emerging Asian markets such as Cambodia and Laos. It includes full factory cost analysis, descriptions of the legal establishment differences and options, the tax implications in these markets, as well as business and cultural differences. This is a must read for all executives interested in expanding into Asia.

Asian Double Tax Treaties 2011
Double tax treaties are a useful tool to help reduce tax liabilities when investing in Asia. They can help to reduce tax liabilities for withholding tax, dividends tax, royalties, VAT and income tax, in some cases by as much as 50 percent. In this guide, we detail 20 Asian countries, including China, India and Vietnam, and the DTAs they have signed.
2012 China, India and ASEAN Growth to Stimulate FDI
India to Be World's Fastest Growing Economy