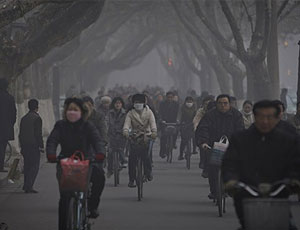 Nov. 10 – China's State Council on Wednesday passed a proposal aimed at controlling greenhouse gas emissions – one of the important aspects of China's 12th Five Year Plan – Xinhua news agency reported.
The approved plan aims to realize a 17 percent decrease in the nation's per unit CO2 emissions by 2015. The State Council pointed out that China needs to improve its industrial structure, develop low-carbon energy sources, as well as increase forest carbon sequestration. In addition, the State Council urged the establishment of a calculation system for CO2 emissions and the promoting of a low-carbon life style across the country. According to officials with knowledge of the matter, the plan explicitly lists exact targets for CO2 emissions per unit of GDP.
China has been under pressure for its growing CO2 emissions since it became the world's top emitter of greenhouse gases in 2007.
Although the government is reluctant to provide accurate data about the country's air pollution and greenhouse gas emissions, an increasing number of residents have become aware of serious environmental problems in China, such as heavily polluted air in cities. Examples of this crisis can be seen in the smog-ridden capital city Beijing, the rapidly melting glaciers in the Northwest, and the severe soil pollution that has created "cancer villages" throughout the country.
Statistics show that in 2010 alone China consumed some 3.2 billion tons of coal – equal to 46 percent of global coal consumption.
In an attempt to improve the situation, which has mainly been caused by massive industrialization and urbanization, the government has started taking measures to deal with these environmental problems.
During the previous Five Year Plan, 473 million tons of CO2 were reduced by means of government control and another 777 million tons were saved by promoting and encouraging low-carbon lifestyles, while only 15 million tons of greenhouse gases were cut using market-based policy options. China's central government has also announced that the country's forest coverage will expand by 40 million hectares and its forest stock volume will increase by 1.3 billion cubic meters by 2020 compared to that of in 2005.
In the past five years, China has invested RMB1.73 trillion (US$272.8 billion) in new and renewable energy sources, plus RMB859.2 billion in energy efficiency, according to sources. However, environmental experts suggested that the government should implement more market-based policies to help small and medium-sized companies be involved in low-carbon economy.
Without widely spreading low-carbon technologies across the country, the government's efforts to curb CO2 emissions will continue to meet severe challenges.
Related Reading