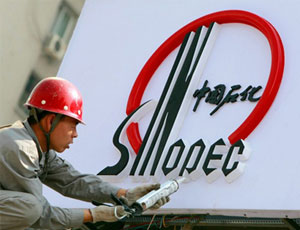 Nov. 11 – China's state-owned oil giant Sinopec Group announced Friday that it will buy a 30 percent stake in the Brazilian unit of Portuguese oil company Galp Energia for US$3.54 billion in China's biggest push into the overseas energy market in 2011. Last year, Sinopec paid US$7.1 billion to Spanish oil giant Repsol for a 40 percent stake in its Brazil assets.
Galp Energia, which was established in 1999 and headquartered in Lisbon, Portugal, is an integrated oil and gas company. According to Sinopec's statement, the company owns four deep-water offshore blocks around Brazil's Santos Basin, namely BM-S-11, BM-S-24, BM-S-8 and BM-S-21.
"It is expected that Sinopec will obtain 21,300 barrels of oil equivalent a day of equity output in 2015, reaching a peak output in 2024 at 112,500 barrels oil equivalent a day," the statement read. Sinopec said the transaction hasn't been approved by the central government.
Chinese media said the pact will be one of the great contributions made by Sinopec during China's 12th and 13th Five Year Plans.
In an attempt to meet huge domestic energy demands, China has begun actively looking for opportunities overseas to obtain energy assets. Statistics show that in 2011 alone, Chinese energy companies have bid at least US$16 billion for oil and gas sources abroad.
Last year, another state-controlled oil company Sinochem paid US$3 billion to Norway-based oil company Statoil to acquire 40 percent of the company's Brazilian offshore oilfield. Earlier in 2009, Sinopec bought Geneva-based oil producer Addax Petroleum Corporation for US$7.5 billion, which enabled Sinopec to gain oil reserves in northern Iraq and West Africa.
China has been actively diversifying its energy sources to avoid relying on one market. Compared to the country's marathon deals over negotiating oil and gas prices with Russia, the South American market seems to be more open to Chinese investment.