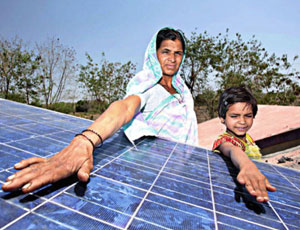 Dec. 20 – India's Ministry of Commerce and Industry has accepted a petition to conduct an anti-dumping probe into Chinese-imported solar panels. The investigation is expected to be initiated within a month, China's Ministry of Commerce stated yesterday on its web site.
The announcement said that solar equipment manufacturers in India have lobbied the government to help protect the immature domestic solar energy industry against stronger international rivals, including First Solar, the largest maker of thin-film panels, based in the U.S. state of Arizona, and Suntech Power Holdings Co., the world's largest producer of solar panels based in Jiangsu Province, China.
Analysts believe India's move may fuel the on-going solar equipment war between China and the United States. It's reported that the U.S. International Trade Commission, which is conducting a full investigation into the case, took one step closer to imposing added tariffs on Chinese solar imports on December 2.
Indian Renewable Energy Ministry Secretary Tarun Kapoor told reporters that Indian solar equipment businesses are attempting to get the same solution as the United States. In addition, local manufacturers seek a 15 percent tariff on imports of thin-film panels.
Despite India's large consumer demand and dynamic economy, local manufacturers, including Tata BP Solar India Ltd., Indosolar Ltd. (ISLR) and Moser Baer India Ltd. (MBI) have largely been unsuccessful in developing domestic markets, Bloomberg reported. Chinese solar equipment makers often benefit from low-cost raw materials while U.S. companies are supported by preferential trade finance, which has left Indian enterprises with fewer opportunities in getting solar equipment orders.
"It's a disaster in the making," said K. Subramanya, chief executive officer of Tata BP Solar, 51 percent-owned by BP Plc. and India's third-biggest cell and panel maker. "I'm feeling a bit of anguish because we want solar to succeed but we need fair competition."
Related Reading
Asia to Play Critical Role in Global PV Market Growth
China 1st, India 10th in Clean Energy Investment Attraction