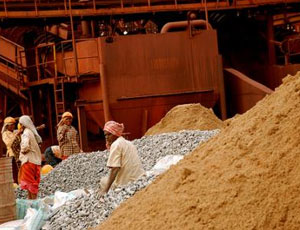 Dec. 26 – Iron ore exports from India to China are declining sharply, according to statistics by the Indian Ports Association. In an attempt to supply the domestic market, China is likely to search for new sources, Indian media reported.
In November, India's major state-owned ports exported 480 million tons of iron ore, falling 35.4 percent year-on-year. Iron ore shipments through Paradip, one of the largest ports on India's east coast in Orissa, dropped to 148.6 million tons, down 88.4 percent. Visakhapatnam port's iron ore exports plunged to 93.3 million tons with a decrease of 35.7 percent. Iron ore exports account for 80-90 percent of India's export capacity, of which about 70 percent is reportedly exported to China.
"I don't know the figure, I only know that export of minerals from India (to China) has declined in comparison to last year," said Chinese Ambassador to India Zhang Yan.
The Indian media said that an investigation by the Indian central government into illegal mining activities across the country has led to a ban on iron ore exports, which resulted in significant declines in Orissa, Karnataka and Goa.
"The new policies of the central government and the states have led to a decline in exports of minerals, especially iron ores. We want the government to provide a more conducive environment and liberal policies for Chinese companies to invest in India," Yan added.
"Our market is always open to India. We want to buy iron ore from anywhere. If not India, we are going to buy more from Australia and Brazil and look for new sources in African countries," Zhang said while speaking at a meeting on "Indo-China Trade Relations and Allied Matters", organized by Utkal Chamber of Commerce, an apex body of industry representatives in India.
Concerning the program on Indo-Sino trade relations and allied matters, Yan said sectors including power, cement, steel, sugar, paper and fertilizers would be more attractive to Chinese investors.
The Indian side suggested Chinese enterprises look for opportunities of trade in auto ancillary, pharmaceutical, and agro processing sectors as well. Setting up manufacturing units would also be an option, the leader of ruling party and Rajya Sabha MP Pyari Mohan Mohapatra said.
Last year bilateral trade volume between China and India exceeded US$61 billion, 20 times higher than a decade ago. Official figures show that this year, between January and December, trade volume between the two sides reached US$60.3 billion and is expected to reach US$70 billion by the end of December. Earlier this year the Associated Chambers of Commerce and Industry of India predicted China and India will emerge as the world's largest trading partners by 2030, and bilateral trade will increase to USD $100 billion by 2015.
Related Reading
China-India to Become World's Largest Trading Partners by 2030