By Julia Gu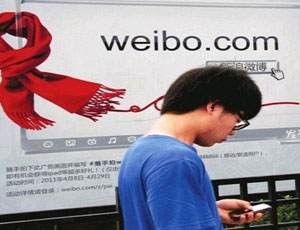 Dec. 27 – Following identical moves adopted by other major cities including Beijing, Guangzhou, Tianjin and Shenzhen, Shanghai is going to require users of Weibo, a twitter-like microblogging service, to register under their real names starting Monday, state media reported.
Authorities explained that the new rules aim to protect web users' interests and improve credibility of the websites as well as to "foster a healthy Internet culture." According to the report, netizens may use their screen names for tweeting, but for registration real names would be required. The guidelines will include both private and corporate users.
Among all the tweeting services in China, Sina Weibo is the largest, with over 200 million users who share and spread information. Since the fatal bullet train crash in July, Sina microbloggers have often expressed their dissatisfaction towards the official corruption, scandals and disasters by tweeting. Endless food safety issues – including re-used gutter oil as well as contaminated baby formulas – left angry netizens venting their frustrations on Weibo instead of reporting the cases to relevant authorities. Some netizens, like residents in Guangdong's fishing village Wukan, used microblogging as a platform, where they could share and spread photos, videos and reports about their demonstrations against the government.
Authorities had been pressurizing the social media service firm to upgrade their controls as it was difficult to track Weibo users who spread "provoking and false information" with only screen names. Beijing officially announced on December 16 the new rules that require real name registration, which in turn led to other cities implementing the same regulations.
Known to all, China has created its own parallel social media universe. Charles Chao successfully introduced Sina Weibo, the Chinese version of Twitter, while Pony Ma came up with his instant messenger product QQ, which has almostreplaced MSN in China. Renren provides practically the same services as Facebook; Baidu has become the main search engine in Chinese and Youku.com as well as Tudou.com ensures the video-sharing sector. Leaders of these domestic online service companies have vowed to never cross the Great Firewall, and in return they are able to gain access to the Chinese market of over 1.3 billion people.
The new rules imposed on microblogs might be good news for companies, which rely mostly on digital marketing. A number of netizens said they support the real name registration. In their opinion, real name registration will be beneficial since people will be more cautious about posting false news, job-ads, reporting corruption, etc. thus allowing people to have access to credible sources.
However, a handful of people remained skeptical about the decision. Last week the account information of over 6 million users of online community – Chinese Software Developer Network (CSDN.net) – was hacked. Later the information was publicized online, which made security the top issue that concerned netizens.
"If they really require real-name registration, I'll go use Twitter. I don't feel safe with putting my real information on the Internet," Weibo user csho said.
"I'll never use the Weibo again if they ask for my real name," said Liangyi.
"It's hard to tell the advantage and disadvantage of real-name registration on Weibo, I think you all know the advantages. But the disadvantage seems really worrying. From now on ordinary people, just like myself, should be careful with what we say on the Internet. If the authorities find our information unpleasant, they might charge us, and once they have our true information it's easy for them to get us. Especially, concerning some topics about the government, I don't think people should tell the truth anymore, if we do, the government will call us 'rioters'," warned one microblogger named Xianqingtanyi.
"Real-name registration has been realized at last. Not long ago, the government implemented real-name train ticket policy. What's going to be next, we don't know. But we know one thing: the Internet era, when we were able to talk about anything, is going to vanish. Now wherever you go, invisible restraints are going to grip you forever. Is our society moving forward or backward?" asked Dynamic cowboy.
Related Reading
Red Cross Society of China Commits to Public Information Sharing
China's Sina to Internationalize Weibo, Launch English-Language Service