Global brands must look to Asia for growth as Hermes begins selling saris to India
Op-Ed Commentary: Chris Devonshire-Ellis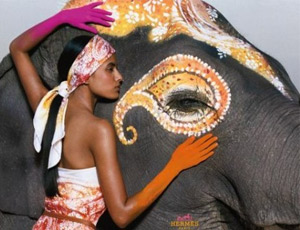 Jan. 16 – The British Chancellor, George Osborne, has arrived in Hong Kong for a three-day tour of Asia and will be suggesting that Britain's businesses look beyond the battered Eurozone economy and seek trade partnerships in the Far East. He will also visit other parts of China and Japan as forecasters warn that the UK economy has already slipped into recession.
"The problem of high indebtedness in Western economies means these are challenging times for the world economy," Osborne was quoted as saying in The Observer Sunday newspaper. "But as we look to this difficult year ahead, I want to focus on reasons to be optimistic for the future. A richer, stronger Asia is an opportunity for the world, not a threat."
That coincides with many analysts predicting two successive quarters of negative growth in the UK, starting in the final three months of 2011 – the widely accepted definition of a recession.
Getting growth back into multinational companies not already expanding in Asia is a task that unites not just the UK, but also the entire Eurozone and the United States – all of which have suffered during the on-going Global Financial Crisis. With GDP growth in all these areas either minimal, static or at worst, entering recession, emerging Asia offers a way out. Growth in China has been slowing, but is still buoyant at an expected 7 percent to 8 percent for 2012, while India has recently overtaken China in terms of the highest GDP growth among the major economies with growth expected to hit 8.5 percent to 9 percent this year. Just last week, India relaxed regulatory controls over single brand retailers, offering many global brands the ability to own 100 percent of their own stores – and profits – in the country.
That India represents a ready market is apparent when Hermes, the luxury French fashion designer, has launched a range of saris costing up to US$8,000 – a case of apparently selling coals to Newcastle if there ever was one. The items have almost sold out; such is the demand for luxury items in traditional Indian style, even from foreign designers.
Other Asian markets have also been showing strong growth, with expected forecasts as follows: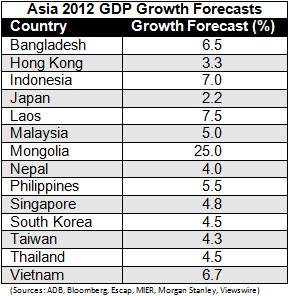 Of these, Mongolia stands out with an astonishing expected GDP growth of 25 percent, largely as a result of both its relatively slow-starting base and the massive upsurge in mining investment currently taking place in the country. Japan, meanwhile, remains low at under 3 percent as the nation still deals with the devastating effects of last year's tsunami.
Elsewhere in Asia, growth is significantly better than in the West, with China, India, Indonesia and Vietnam all extremely strong. Bangladesh and Cambodia are also predicted to have strong economic performances during 2012, driven both by their increasing trade volumes with ASEAN and also as a result of the migration away from China of cheap, labor-intensive industries and the garment/textiles sector in particular.
Investment into Asia then will become a watch word for global business trends during 2012 – with the phenomena of China's massive rise over the past 30 years having a ripple effect upon all other Asian economies. The UK Chancellor is right to point this out to British businesses – and the rest of the world's global entrepreneurs, designers, manufacturers and retailers should be thinking along the same lines too.
Chris Devonshire-Ellis is the principal and founding partner of Dezan Shira & Associates, a foreign direct investment practice specializing in providing legal, tax, due diligence and financial advice to foreign investors throughout Asia. The firm was established in 1992 and maintains numerous offices in China, India, Hong Kong, Singapore and Vietnam. Please visit the firm's website or contact them at [email protected].
Related Reading
The Asia Tax Comparator
Asia Briefing devotes this issue of China Briefing to providing a practical comparison of taxation throughout Asia. In particular, this issue takes a look at the taxes most applicable to foreign businesses and individuals in Asia, i.e., corporate income tax, value-added tax, goods and service tax, standard tax on dividends and individual income tax. Priced at US$25.