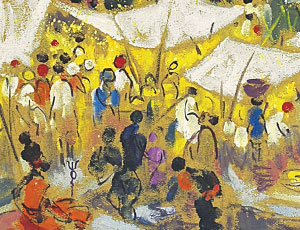 India the new retail darling as China loses some luster
By Chris Devonshire-Ellis and Cindy Tse, Dezan Shira & Associates
Feb. 2 – As big-name retailers like Best Buy and Home Depot exited China last year, India has just liberalized its single brand retail to permit 100 percent foreign investment. A comparison of India and China's retail markets reveals some lessons for retailers in both markets. The key points? Second and third-tier cities.
International retail development rankings
India ranks fourth globally for retail development on the 2011 Global Retail Development Index (GRDI), a study by global management consulting firm A.T. Kearney. Meanwhile, China's retail development ranking took a dramatic fall from first in 2010 to sixth place in 2011.
China's drop in the rankings (to where it now ranks below Kuwait) is quite surprising considering the country's impressive growth statistics. In 2010, China's GDP grew by 10.3 percent and the figure is expected to be between 9 percent and 10 percent in 2011. Furthermore, China's retail market is worth US$2.1 trillion, about half the value of the U.S. retail market.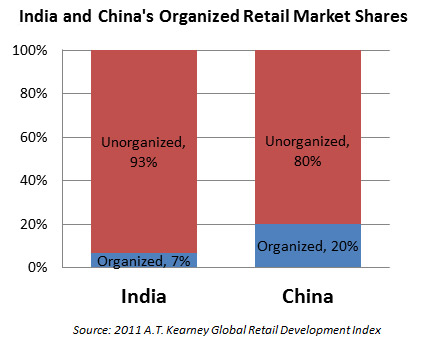 So why the big fall? Differences in demographics are a significant factor separating the two countries, with India's young population holding great future potential.
India is currently in what demographers call the "sweet spot," when the dependency ratio is low, resulting in a society with a huge population of people aged 15-65. For retailers, this sweet spot means a healthy stock of consumers poised to spend on a wide range of goods.
While China is reaching the peak of this demographic phase, India can expect to stay in the so-called sweet spot until 2037, with those of working age and the increasing number of women in the workforce posed as dominant consumer groups.
Yet, according to the report, the main reason for China's slide in the GRDI rankings is high retail market saturation. As China developed rapidly after the reform and opening policy, so did its retail market. Foreign retailers entered retail markets not only in first-tier cities like Beijing and Shanghai, but also in second-tier and even third and fourth-tier cities. Corporate talk now is of expanding even further, drilling down into China's heartland of tiers five to seven – even taking in cities with populations of just 1-2 million.
Retail in India's second and third-tier cities
In India, both Indian and foreign retailers are expanding outside Bangalore and Mumbai into India's growing second and third-tier cities, and now into rural areas. In addition to the draws of increasing salaries and attractive real estate prices and availability, such areas are also seeing significant transportation and infrastructure developments that are paving the way for increased investment.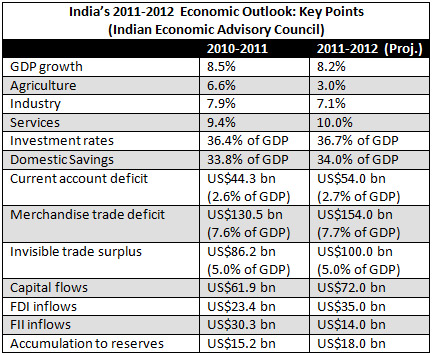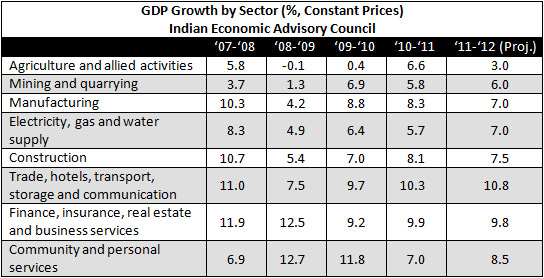 In the coming years, high profile second-tier cities such as Hyderabad, Chennai, Pune and Kolkata will see new retail outlets from domestic retailers such as Spencer's, Reliance Retail, Pantaloon Retail, Shoppers Stop and Trent's Westside. Given that multi-brand retail is still restricted in India to 49 percent ownership, the onus is on Indian businesses to expand and develop this market. They are doing so.
With more diverse and unique consumer behavior in these regions, even the biggest retailers have diversified their marketing strategies and retailing formats to adapt to what Professor Anil Gupta of the Indian Institute of Management describes as a more discerning and less impulsive consumer who takes time to explore, understand and discuss before finally purchasing.
At the India Retail Forum 2011, Salil Chaturvedi of Indian retailer Provogue cautioned other retailers against "self service" shop models, as consumers in second and third-tier cities need more interaction on the shop floor with staff who can impart product knowledge.
This is especially true of India's high potential luxury goods market, which saw a dramatic 20 percent increase in the past year to reach a market value of US$5.8 billion. Much of this growth has been in second and third-tier cities, bolstered by the high value of gold and an increasing number of high networth individuals (second only to the United States).
One of every four luxury stores in India has set up outside of Mumbai, Delhi and Bangalore, according to the A.T. Kearney report. Outside the booming lower tier metropolises lies even more promise in rural India. With 70 percent of India's population living in rural regions, and a rapid increase in per capita incomes, the rural consumers in India hold great potential.
Industry experts predict that it will not be long before rural India's share of retail exceeds urban regions, as rural retail has already reached 40 percent market share. This is expected to boom now that single brand retail has been fully opened up to FDI – stores such as Adidas and IKEA, in addition to luxury brands such as Chanel and Louis Vuitton, are all expected to make aggressive inroads into India.
The "bottom of the pyramid" is the driving force between India's retail market growth trajectory, empowered by higher education levels, more purchasing power, increased brand awareness, and greater exposure to the internet, according to The India Brand Equity Foundation (IBEF). The IBEF also expects government initiatives to increase rural employment and access to credit to contribute to higher consumer spending in the near future.
Fast-moving consumer goods (FMCG) are expected to experience the most significant growth, as over 80 percent of the FMCG categories are already growing more rapidly in rural India than in urban India, according to market research firm Nielsen. By 2012, the rural FMCG market is expected to grow from the current US$19.08 billion to US$23.08 billion.
Domestic retailers are already on the move in rural India, with innovative chain retailing models that have been well-received by rural communities, engaging local farmers and enterprises successfully. One example is Hariyali Kisaan Bazaar, one of the largest national rural retail chains in India, which operates 290 locations, including 20 opened in 2011 alone.
Given that India's demographic advantage and liberalization of foreign investment into its retail sector is changing, the Indian market now represents an additional investment challenge and opportunity for global retailers used to high returns in China. The phenomena of having both markets of over 1 billion consumers each developing within 20 years is unprecedented, and retailers and their supplier alike should be scrambling to take advantage of the Asian consumer boom these markets represent.
Chris Devonshire-Ellis is the founding partner and principal of Dezan Shira & Associates, a specialist foreign direct investment practice with 12 offices in China and 5 in India. The firm provides regulatory, legal, tax and business advisory services to foreign investors in these markets and has been established since 1992. Please contact the practice at [email protected] for advice or visit the firm's web site here.
Related Reading
Doing Business in India (Second Edition)
This book aims to provide a basic overview of all topics related to doing business in India – history, business etiquette and culture, and how to invest into the country, in addition to a detailed, state-by-state demographic and geographic overview and a comparison with China.
The Asia Tax Comparator
Asia Briefing devotes this issue of China Briefing to providing a practical comparison of taxation throughout Asia. In particular, this issue takes a look at the taxes most applicable to foreign businesses and individuals in Asia, i.e., corporate income tax, value-added tax, goods and service tax, standard tax on dividends and individual income tax.
Foreign Direct Investment in India's Single and Multi-Brand Retail
India FDI Investment Good to Go for MNCs at Davos Forum
Greater Opportunities in India than China
India Foreign Investment Regulations and Limitations
India Permits 100% FDI in Single Brand Retail
Call Your Broker – India Allows Foreign Individuals to Purchase Stocks