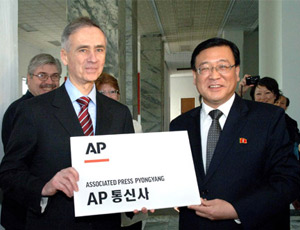 Feb. 7 – The latest issue of DPRK Business Monthly is now available for complimentary download. The regular magazine looks at current international, domestic, and peninsular affairs concerning North Korea while also offering commentary and tourism information on the country.
In recent international news, the Associated Press announced on January 16 that it had opened a bureau in Pyongyang, becoming the first international news organization with a full-time presence to cover news from North Korea in words, pictures and video.
Executive editor Kathleen Carroll said that AP "does not submit to censorship" anywhere in the world, including North Korea.
"We wouldn't have set up a bureau if we hadn't been able to operate the way we'd like to operate," Carroll told The Huffington Post by phone from Pyongyang.
Carroll noted that "every country has its own challenges," and AP journalists don't wander freely in North Korea, just as they couldn't wander freely while reporting on a military base in various countries. But "when we have asked permission to go places," she said, "we've been able to go."
In other international news, China could possibly provide hundreds of thousands of tons of food aid to North Korea, as part of efforts to help the power transition of successor Kim Jong-un, a source in Beijing told South Korea's JoongAng Ilbo.
"After the death of North Korean leader Kim Jong-il, China wants stability for its ally, and expressed its willingness to play a necessary role in it," the source said. "Due to this, it seems that food assistance will take place."
In domestic news, North Korea imported six times more mobile phones in 2010 than in 2009, indicating rapidly growing mobile penetration, according to Washington-based Radio Free Asia (RFA).
North Korea bought 430,000 mobile phones from China in 2010, up from 68,000 the previous year. In 2010 the country spent US$35 million on importing mobile phones, seven times more than the US$5 million outlay in 2009, RFA said, citing recent data from the United Nations.
In other news, Rodong Sinmun, the newspaper of the Workers' Party of Korea and North Korea's main national daily, has launched an English-language website, according to NorthKoreatech.
The page has a small archive of stories stretching back to December 1. It's the first foreign-language version of the paper, and comes just under 11 months since the launch of the Korean-language site.
To read further about these topics, and much more, please download the complimentary DPRK Business Monthly PDF on the Asia Briefing Bookstore.
DPRK Business Monthly is produced by North Korea expert Paul White.