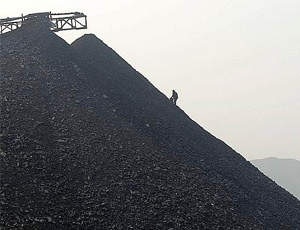 Feb. 9 – China dramatically increased its renewable energy production capacity in 2011, tripling output in solar power alone, but environmentalists warn an unwavering reliance on coal to fulfill 70 percent of its energy needs is offsetting the benefits of this new clean development, according to The Guardian.
Last year, China overtook Japan for the first time to become the world's top importer of coal and, after increasing overall consumption of the resource by 95 million tons over the same time, China is on pace to soon be burning half of the world's coal. As coal is considered the most damaging source of carbon dioxide emissions, these new statistics have alarmed both environmentalists as well as Chinese government officials, who are already under pressure to curb pollution and environmental degradation.
That pressure may be set to intensify further if a new policy is accepted calling for energy use to be kept below 4.1 billion tons of coal equivalent per year by 2015. The suggestion was made last month by Liu Tienan, the director of the National Energy Administration, at a policy meeting in Beijing.
Such a policy would be a surprising development, as the country currently sets goals for energy and carbon intensity China currently sets energy His proposal is based on an assumption that China's economy will grow at a steady rate of 7.5 percent per year until 2015, and is likely to be met with fierce opposition from provincial leaders, who predict combined growth will be closer to 9 percent.
If Tienan's policy is rejected, provinces may be granted a combined coal allowance of between 4.25 billion and 5 billion tons, which would be calamitous according to environmentalists.
"If it goes up to 5 billion tons, it would be a disaster; China would effectively be promoting high-energy, high-carbon growth," said Li Yan, Greenpeace East Asia's climate and energy campaign manager.
Deciding whether to introduce a cap on coal could have a major impact on the growth of the renewable energy industry. China continued to make remarkable progress in this area last year, with figures published by the National Energy Administration showing a rise of 47 gigawatts in wind power generating capacity, and the completion of an additional 12.6 gigawatts of hydropower. To put that in perspective, the UK currently has a total energy capacity of 75 gigawatts.
But although in theory a limit on coal consumption should provide an energy vacuum that a rapidly developing renewables sector could expand into, making this a reality would put incredible pressure on precious resources which are already being over-exploited.
The global community has never witnessed more enthusiasm for the rapid development of renewable energy technologies than exists at present. The benefits are manifold: drastic reduction of carbon emissions; reduced environmental degradation; slowing or even reversing the effects of global warming and allowing governments to reach ambitious targets to reduce harmful emissions, to name a few.
China wishes to lead the developing world in renewable energy technology and production, but faces a problem in its over-reliance on coal.
Related Reading
China Overtakes Japan as World's Top Coal Importer
Report: Climate Change Could Hamper China's Rise
China, India Favorites to Mine Afghanistan