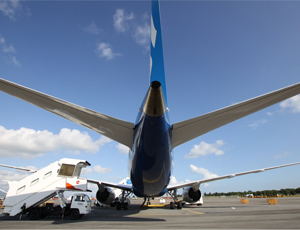 Feb. 15 – The global demand for aircraft is expected to balloon over the next two decades, according to forecasts made by major industry player, Boeing. The U.S. aerospace giant predicts global airlines will require 33,500 new aircraft worth about US$4 trillion by 2030 – 60 percent of which will be to feed market growth.
The Asia-Pacific region is expected to account for some 35 percent of these orders, according to Boeing's Vice President for Commercial Planes Randy Tinseth. He also said Boeing's response will include plans to increase production and possibly introduce a larger version of its new 787 Dreamliner.
China is expected to be a high-growth aviation market, accounting for about 42 percent to 43 percent of Asia's projected new-aircraft demand for the next two decades.
"We've seen a great deal of focus in China on wide-body and freight aircraft," said Tinseth.
However, it is thought that Southeast Asia will be the Asia-Pacific region to lead growth in global demand for new aircrafts with projections of orders worth US$1.5 trillion through to 2030.
"The region's economic growth, expanding at least 5 percent to 6 percent a year over the next 20 years, and the proliferation of low-cost carriers will drive demand for new airplanes," said Ralph Boyce, president of Boeing Southeast Asia. "The Philippines is still quiet, but Vietnam's importance is growing, with Vietnam Airlines becoming the second-largest carrier in this part of Asia in the not-so-distant future."
Boeing's sale of 230 single-aisle 737s to Lion Air, Indonesia's biggest private carrier, demonstrates the country's position as a major aircraft market.
Meanwhile, in Thailand, Boeing hopes to secure more orders from Thai Airlines under the second phase of an acquisition plan now being finalized, according to Boyce. The Thai flag carrier's fleet is split almost evenly between Boeing and Airbus, who together dominate the market. However, it is thought that there is still room for more competitors.
"Over the next 20 years, we see demand for almost 24,000 single-aisle airplanes and the market is about US$2 trillion. It's a space that's big enough for us and Airbus to grow, and probably big enough for one or more new competitors to be successful as well," Tinseth said.
Tinseth acknowledged the rise of competitors like Canada's Bombardier, the Commercial Aircraft Corp. of China (Comac), and Russian manufacturers, but said Boeing will continue reducing costs to maintain its advantage.
Although state-owned Comac has struggled, Tinseth is confident that it will be successful.
"The question is when, and whether Comac's first [narrow-body aircraft] will be a challenge to Boeing and Airbus," Tinseth said.
However, despite the market's potential for massive growth, it is thought long-haul, budget airlines will continue to struggle in Asia as they have in Europe. Malaysia's low-cost long-haul carrier AirAsia X, a unit of AirAsia (Southeast Asia's biggest budget airline by fleet size), recently said it will end flights to Europe and India by the end of March because of slow demand and higher fuel and tariff costs.
Related Reading
India Wins 'Asia's Leading Destination' Award
AirAsia Eyes Indian and Chinese Markets
Virgin Australia's New Alliance to Tap Chinese and Indian Markets
India's IndiGo Buys 180 Airbus Aircraft in Biggest Ever Order
Indian Spicejet to Launch US$20 Chennai-Colombo Route